Our favorite PranaSleep mattress is the Dharma mattress, which is made of organic, sustainable materials and has a breathable design. Our runner-up choice is the Namaste 5 Series mattress, which is sturdy and durable enough to support heavy sleepers and is affordable.
Founded in 2007, PranaSleep creates mattresses with varying densities and firmness levels to suit a wide range of sleepers. Using natural, renewable materials, PranaSleep mattresses are hypoallergenic and resistant to dust mites, mildew, and mold. Each PranaSleep mattress is hand-assembled right here in the United States.
In this review, we'll start by covering what our Nestmaven experts look for in a good mattress and then move on to our top picks in the PranaSleep range, with specifics on their construction and who they best suit.
BEFORE WE START: What We Look For In A Good Mattress
How can you tell that you're selecting the right mattress? Below, we'll discuss some factors to consider before you buy your new bed.
Sleep Style
The sleep position you favor will affect the type of mattress you should use. For example, stomach and back sleepers should use a mattress that's firm enough to properly support their hips and encourage spinal alignment.
Side sleepers require a softer sleep surface that will cushion their hips and shoulders, which carry the weight of the body in the side sleeping position.
Temperature Regulation
The temperature at which you sleep will impact the quality of your rest. Sleeping too hot is a common problem and can leave you feeling exhausted when you wake up. Find a mattress that encourages a neutral sleep temperature, so you can feel cool and comfortable as you sleep. Cooling gel infusion and breathable open-cell foam are a couple of popular types of cooling technology found in newer mattresses.
User Reviews
When you're trying to judge the quality of a mattress, look to user reviews. You can consider what people who own the bed have to say about it, whether it has quality edge support, and how long it lasts. In this article, we've gathered information from user reviews to bring you a clearer picture of what to expect from PranaSleep mattresses.
#1 Best Soft Option – The PranaSleep Guru Mattress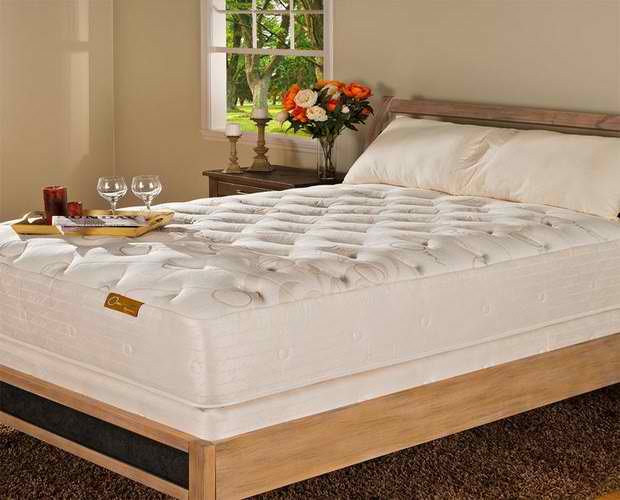 The Guru mattress from PranaSleep's Om line is a plush option that provides soft pressure relief. Side sleepers should find this mattress especially comfortable, as it will gently cradle their hips and shoulders. The Guru mattress features luxurious, natural materials from its supportive core to its plush surface. Om mattresses have cashmere, wool, natural silk, and comfort layers made with 100 percent natural Talalay latex.
What We Liked:
Organic cotton
Stable, supportive core
Luxurious cashmere ticking
What We Didn't Like:
The Guru mattress by PranaSleep comes with a 20-year warranty to protect your purchase. It uses varying densities of 100 percent natural latex from the Netherlands in its core and comfort layers.
NaturalQuilt™ Layer
The NaturalQuilt™ layer in the Om Collection by PranaSleep contains Talalay latex and over five pounds of cashmere, organic cotton, silk, and pure wool batting. The result is a luxurious, natural sleep surface.
The PranaSleep Perimeter Wrap®
PranaSleep has a unique process of wrapping the comfort layers and core of the mattress with durable fabric girds. This process stabilizes the materials in the bed and gets rid of the need for a foam encasement. The wrap gives the Guru mattress internal stability and consistency.
Heavy Sleepers may Require a Firmer Bed
The Guru mattress by PranaSleep is a plush bed, which might not be supportive enough for sleepers who are carrying some extra weight. If you're a heavy sleeper, you may want to opt for an innerspring mattress in order to get the support you need.
Our Verdict
Overall, the Guru mattress is a good choice for side sleepers since it comfortably cushions the hips and shoulders. It has a luxurious design that should suit light or average weight sleepers who know they want a plush bed. Heavier weight sleepers may want to opt for a firmer bed or one with coils to get the support they need.
#2 Best Organic Pick – The Dharma Mattress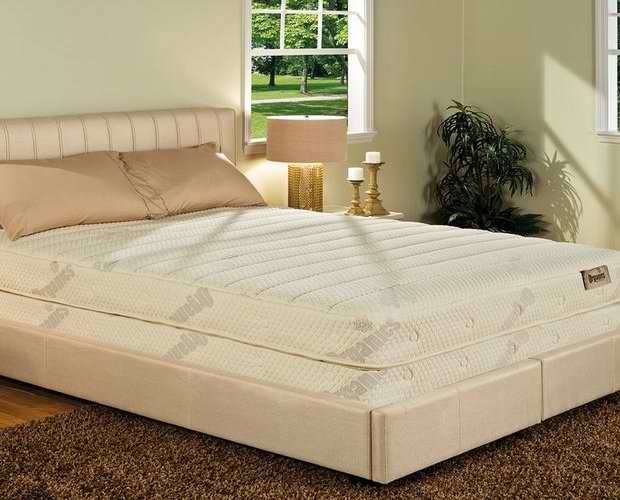 The Dharma mattress by PranaSleep is dust mite-resistant, antimicrobial, and hypoallergenic. The organic materials used in the bed make it a good choice for people who are looking for a natural bed. The mattress is handcrafted with fine materials, including organic cotton, wool, and 100 percent natural Talalay latex.
What We Liked:
Organic materials
Firm and supportive
Breathable for cool sleeping
What We Didn't Like:
May feel too firm for lightweight sleepers
The Dharma mattress by PranaSleep is a suitable choice for people who like to are looking for an organic bed. It's polyurethane-free, so it doesn't come with the common off-gassing odor associated with other types of mattresses.
Quality Materials
The core of the Dharma mattress is made of 100 percent natural Talalay latex and the bed also uses organic cotton and wool. It includes the company's Perimeter Wrap® to keep the layers of the bed firmly in place and provide consistency to the firmness of the mattress.
Firm Support Suitable for Back Sleepers
The Dharma mattress has a firm design and provides stable support for your lower back. A firm bed like this is great for back sleepers since it keeps the hips properly supported to provide full-body alignment.
Our Verdict
The Dharma mattress could be a good choice for conscious shoppers who want an organic product. It's also great for heavier sleepers who need a firm sleep surface and people who sleep on their back as it provides lower back support. The mattress is warrantied for 20 years.
#3 Best for Combination Sleepers – The PranaSleep Patanjali Mattress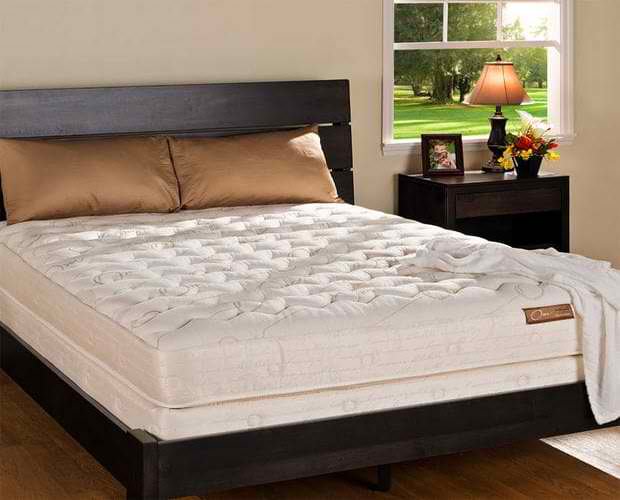 Another option from the Om Collection at PranaSleep, the Patanjali mattress uses luxurious, natural materials that comfortably support you in all sleep positions. This bed is made with 100 percent natural Talalay latex, cashmere, wool, and silk.
What We Liked:
Comfortable for all sleep positions
Supports spinal alignment
Breathable design
20-year warranty
What We Didn't Like:
The Patanjali mattress has a firm design and provides stable support to the lower back. It works well for side, back, stomach, and combination sleepers, as it encourages spinal alignment in every sleep position.
Environmentally Sustainable
The Patanjali mattress is made from 100 percent natural latex and other natural materials, like wool. These materials make it safe for you and for the environment, as there aren't many harsh chemical processes involved.
Comfortable Materials
The Patanjali mattress has a top layer made with organic cotton, cashmere, silk, wool, and latex. This combination creates a firm, supportive, and breathable sleep surface to prevent you from getting too hot as you rest. The layers of latex used in this mattress are of varying densities to provide pressure relief and comfort.
Our Verdict
The Patanjali mattress by PranaSleep provides a comfortable, firm surface that works for all sleep positions. The layers of latex used contour to your body to relieve pressure but don't make you feel stuck in the mattress. This bed is suitable for any type of sleeper who knows they like a firm mattress.
#4 Best for Heavy Sleepers – The Namaste 5 Series Mattress
The Namaste 5 Series mattress uses durable fabrics and high-density foams to provide a supportive sleep surface. Sleepers who are carrying some extra weight should find this bed sturdy enough to offer them the alignment they need.
What We Liked:
Dense, supportive core
20-year warranty
Build to last without sagging
More affordable than other PranaSleep beds
What We Didn't Like:
Heavy (may be hard to move)
The Namaste 5 Series mattress is a more affordable alternative to other mattresses by PranaSleep. Like other mattresses offered by the company, it uses the Perimeter Wrap® system instead of foam encasement to stabilize the bed and hold the layers in place.
Comfortable Contouring
If you struggle with body pain or tension, the DeluxeQuilt® layer in the Namaste 5 Series mattress might help. It uses durable stretch-knit fabric and premium foam to provide a comfortable contour for your body while you sleep.
A Dense, Supportive Core
The performance fabrics and high-density foams used in the Namaste 5 Series mattress by PranaSleep create a stable core. The supportive mattress should feel comfortable in every sleep position, as it properly supports the hips and shoulders. The bed has been tested to last for up to 10 years without sagging.
Cool and Breathable
If you struggle with sleeping hot at night, the Namaste 5 Series mattress may present a solution. It uses Talalay latex and a cool, breathable SuperQuilt™ layer to create a comfortable sleep temperature.
Our Verdict
If you want a PranaSleep bed but are also shopping on a budget, the Namaste 5 Series mattress might be a good choice for you. Its durable core and cooling properties make it a good choice for hot or heavy sleepers who need firm support without overheating. This bed is warrantied for 20 years, like other mattresses by PranaSleep.
#5 Best for Side Sleepers – The PranaSleep Luxury Plush Samadhi Mattress
The Samadhi mattress by PranaSleep comes in both a Super Cush model and a Luxury Plush version. In this section, we'll be reviewing the Luxury Plush model, which provides soft pressure relief. Since all of your body weight is concentrated in the hips and shoulders in the side sleeping position, a soft mattress feels most comfortable for side sleepers.
What We Liked:
Supports a neutral spinal position
Cool and breathable
20-year warranty
What We Didn't Like:
The Luxury Plush Samadhi mattress by PranaSleep holds the spine in a neutral position to allow for deep rest and relaxation. The core is made with a proprietary latex foam rubber blend for support and comfort.
Provides a Cool Sleep Experience
The Samadhi mattress uses a phase-changing material called Outlast® Smart Fabric, which is said to absorb excess body heat. This material encourages your body's natural cooling process to enable a deeper sleep experience.
Durable and Supportive
The Samadhi mattress is made with natural, durable latex and a Perimeter Wrap®, which holds the mattress layers in place. High-quality materials and the Perimeter Wrap® give the bed a sturdy design that should last you for years.
Our Verdict
If you're a side sleeper, you may do well to switch to the Luxury Plush version of the Samadhi mattress by PranaSleep. It comes with a 20-year warranty and, though expensive, is expected to last for years due to the quality of materials used in its construction.
Other Factors You Should Consider When Buying A PranaSleep Mattress:
As with any other purchase, there are a number of factors to keep in mind when you're investing in a PranaSleep mattress. Let's look at a few key considerations below:
Are All Latex Beds Created Equal?
Not all latex beds are of the same quality. Some mattresses contain natural latex, while others contain synthetic latex or a blend of the two. Natural latex, like the Talalay blend used in PranaSleep products, is hypoallergenic and durable. When possible, it's best to get a mattress made with natural latex, although it does cost more than mattresses made with synthetic materials.
How do You Know When it's Time to Replace Your Bed?
As a general rule, most mattresses won't last past seven or eight years. Luxury mattresses, like the models offered by PranaSleep, will definitely last longer than lower-end beds. The best way to tell when it's time to replace your mattress is by paying attention to how you feel when you wake up. If you repeatedly wake up feeling tired or sore, it may be time to invest in a new bed.
Does the Foundation You Use Really Matter?
The foundation you use with your mattress matters a lot in terms of how it will perform and how long it'll last. PranaSleep foundations are crafted to work well with the manufacturer's mattresses. If you use your PranaSleep mattress without the correct foundation, it may make the warranty void, so keep that in mind.
Should You Use a Firm or a Soft Mattress?
Some believe that the firmer a mattress is, the better it will provide support, but this isn't necessarily true. The best mattress for you will support a neutral spine and take the pressure off of your knees, hips, and shoulders. Softer beds work better for lightweight sleepers as heavier sleepers might find that they don't provide enough support. Firmer beds work better for people who sleep on their back or stomach or carry some extra weight. But the best way to determine the proper mattress for you is going by your own comfort preference.
How Should I Dispose of my Old Mattress?
When you're about to get a new bed, you'll probably wonder how to get rid of your old one. Some retailers will dispose of your old bed for you while, in other cases, you'll have to do it yourself. Recycling your mattress is one option, as is giving it to a friend or charity.
Final Words
Overall, PranaSleep mattresses are a luxurious and expensive option. If you're concerned with durability in your mattress, want a cool sleeping experience, and value naturally-sourced materials, PranaSleep is a good choice. Overall, customer feedback on PranaSleep mattresses is positive in terms of sleep temperature, motion isolation, and support. However, the potential downside of these beds is their high cost.