Sciatica is no walk in the park and a subpar mattress only makes the symptoms worse. Relieving sciatic nerve pain begins with reducing pressure in your body, which a good mattress can help with.
Not to mention that pain can be much easier to deal with when you feel fully rested and haven't woken up countless times throughout the night.
A proper mattress for sciatica shouldn't be too soft or too firm since this discourages proper alignment in the body. It should also sleep cool and minimize motion disturbances, which can be awful when you're experiencing nerve pain.
QUICK LINKS: 5 Top Best Mattresses for Sciatica
Best for Couples: Muse Mattress
Best For Combination Sleepers: The Ultimate Dreams Supreme Mattress
Best Coil Mattress Option: The Saatva Mattress
Best Flippable Option: The Layla Mattress
Best Budget Mattress For Sciatica: The Nectar Mattress
#1 Best for Couples- The Muse Mattress
Last update on 2023-06-12 at 14:07 - More InfoProduct prices and availability are accurate as of the date/time indicated and are subject to change. Any price and availability information displayed on Amazon.com at the time of purchase will apply to the purchase of this product." / Affiliate links / Images from Amazon Product Advertising API
Why We Like It:
Minimizes motion transfer
Surface makes it easy to change positions on
Moisture-wicking, cool cover
Cradles your body for comfort
Supportive base
The Muse Mattress is made with memory foam and cradles your body in a deep, supportive hug. We chose it as the best option for couples because it excels at absorbing motion, so you won't be disturbed by movement.
You Might Want To Pick The Muse Mattress If:
You have lower back pain: Sciatica can cause pain in many areas of the body, including the legs and back. If yours tends to cause pain in the lower back, the contouring support of the Muse Mattress should suit you well.
You don't want an innerspring mattress: Coil beds are nice for people who like a deep bounce in their mattress, but if you prefer an all-foam feel, you will appreciate this bed. The Muse Mattress uses memory foam rather than springs, creating a slow-responding surface.
You're a light sleeper: If you tend to wake up easily from the slightest sound or motion disturbance, you'll like the top layer of the Muse Mattress. The motion-absorbing quality of this bed will ensure that you aren't constantly being woken up when your partner moves around.
You want memory foam without heat retention: Memory foam tends to retain heat more than other mattress materials, but that doesn't mean you shouldn't choose the Muse Mattress. This bed has a moisture-wicking cover made with the company's Cool Wire Fabric, designed to keep you from overheating, so you can enjoy the benefits of memory foam without getting too hot.
With the Muse Mattress, you'll get the feeling of sinking into your mattress instead of sleeping on top of it. The first layer is a 2-inch memory foam layer made with cooling, contouring gel. Under that is a 2-inch layer of soft, medium, or firm comfort foam, depending on the model you select.
The base of the bed is a thick, stable foam foundation that will support even heavy-set sleepers. Most sciatica sufferers should sleep well on the Medium Muse model, which is a 6/10 in terms of firmness. The firm option should also work, while the soft one may not be quite supportive enough for this condition.
Motion absorption is one of the best qualities of this bed, so you won't have to worry about movement transferring and disturbing your sleep. The Muse Mattress is free from harmful levels of dangerous chemicals and has a CertiPUR-US® certification to prove it.
The bed comes with a 120-night sleep trial period, a full refund option if you aren't satisfied with it, and a 10-year warranty.
If you enjoy receiving a deep hug from your mattress and also tend to wake up easily, the Muse Mattress could be your best option.
#2 Best for Combination Sleepers- The Ultimate Dreams Supreme Mattress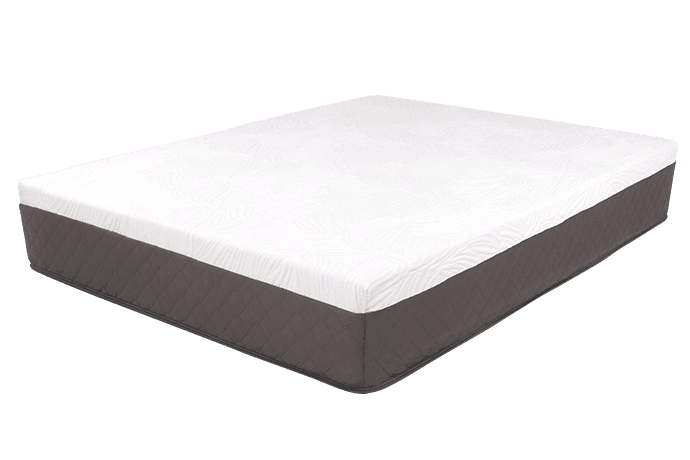 Why We Like It:
Cooling gel for comfort
Works for all sleeping positions
Little to no off-gassing
Budget-friendly price
Supportive enough for heavy people
The Ultimate Dreams Supreme mattress is another memory foam option made in the United States. Its cradling support and semi-firm surface make it good for people with sciatic nerve pain. We chose it as our best option for combination sleepers because its medium level of firmness will support every sleep position comfortably.
You Might Want To Pick The Ultimate Dreams Supreme If:
You're carrying some extra weight: Heavier people have to give their mattress a little more thought since extra weight can make it sag in the middle. Fortunately, the Ultimate Dreams Supreme has a strong sturdy base that prevents this and offers support for heavier body types.
You want cooling technology: Even though this mattress offers the typical cradling hug of a memory foam bed, it doesn't sleep too hot. It uses gel memory foam in its construction for a cooler sleeping experience, so you won't wake up sweating in the night.
You want a luxurious mattress with a budget price: Memory foam isn't exactly known for being cheap, so you might be pleasantly surprised when you look at the price of the Ultimate Dreams Supreme mattress. If you're on a budget, this affordable option should be within your price range.
You want a slow-responding bed: There are no coils used in the construction of this bed, so it doesn't have a springy or bouncy feel to it. Instead, you'll sink slowly into it and experience deep contouring, which can be really helpful for your symptoms.
This mattress has a cotton knit cover, followed by three layers of cradling, supportive foam. The top layer of the Ultimate Dreams Supreme is a 1.5-inch layer of cooling gel memory foam.
Under this is a 2.5-inch layer of pressure-relieving foam that also acts as a transition layer. Last is the 8-inch supportive base for stability. The Ultimate Dreams Supreme mattress is medium-firm, meaning it will work for all sleeping positions.
This bed has a slow-responding surface and the cotton cover has a soft feel to it. Since the surface of the mattress is quite soft, it absorbs motion very well and will work great for people with partners or pets.
The Ultimate Dreams Supreme mattress is free from harmful levels of toxic chemicals and is OEKO-TEX® certified, in addition to being CertiPUR-US® certified. It comes with a 10-year warranty, free shipping, and a 120-night sleep trial period.
If you already know you like the feel of memory foam and are looking to save some money, this medium-firm option should help keep your body aligned and help relieve some of your sciatica symptoms.
#3 Best Coil Mattress Option- The Saatva Mattress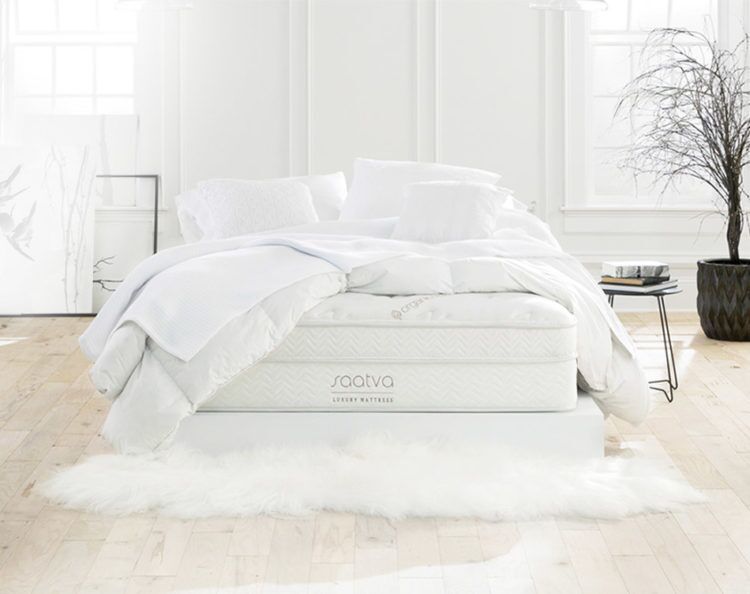 Why We Like It:
Additional support for the lower back
Eco-friendly construction
Coils prevent sagging
Durable, long-lasting design
Good for couples
The Saatva Mattress is good for people with sciatica because it has a special lumbar region that offers additional support. We chose it as the best coil mattress option because it uses an innerspring design rather than foam and should be ideal for people who prefer this traditional design.
You Might Want To Pick The Saatva Mattress If:
You want to sleep on top of your bed, not in it: The innerspring design of the Saatva Mattress gives the surface of the bed a firm, bouncy feel. This creates the sensation of sleeping on top of (rather than inside) the mattress.
You're a back sleeper: Back sleeping can be ideal for sciatica sufferers, since the posture easily promotes a neutral spine position. The Saatva Mattress has a special lumbar region with memory foam that works great for sleeping on your back.
You switch positions in your sleep: If you're a combination sleeper and tend to move around at night, the Saatva Mattress should work well for you. It has a medium-firm, supportive feel that works for every sleeping position and a surface that isn't too hard to move around on.
You value natural materials: The cover on this mattress is made from organic cotton and hypoallergenic fibers. If you're sensitive to allergens or simply like the idea of natural products, you will probably appreciate this.
The soft cover of the Saatva Mattress feels luxurious and is followed by a 1.25-inch layer of foam for pressure relief. A major reason we choose this mattress as a good option for sciatica sufferers is the cradling, supportive lumbar region.
This section has a noticeably different sensation than the rest of the bed and could potentially make your lower back feel better. The next layer is a transition layer made of foam, then a bed of 4-inch coils, followed by a layer of 7-inch coils. This double-coil construction makes the bed bouncy, promotes airflow, and helps the mattress maintain its shape over time.
The top layer of foam feels soft and plush when you lie on the mattress, but there isn't much sinkage before you reach the supportive coils. Overall, the mattress is very responsive, though the lumbar region is a bit softer for targeted support.
If your main concern is motion isolation, the Saatva may not work as well as an all-foam bed, since coil beds don't absorb disturbances to the same degree. However, compared with other innerspring mattresses, the Saatva performs higher than average with isolating motion.
Saatva does quite well in terms of eco-friendliness. Not only do they use organic cotton for the mattress cover, but the coils in the bed are made from recycled steel. The business has also reduced their carbon footprint by getting rid of physical stores altogether and adopting a direct-delivery sales model, instead.
The Saatva Mattress comes with a 120-night trial period and a 15-year warranty. It works well for a variety of body types and sleeping positions and should provide a comfortable level of firmness for your sciatica symptoms. If one of your main concerns is a cool sleeping experience, the coil on coil construction will provide you with it.
#4 Best Flippable Option- The Layla Mattress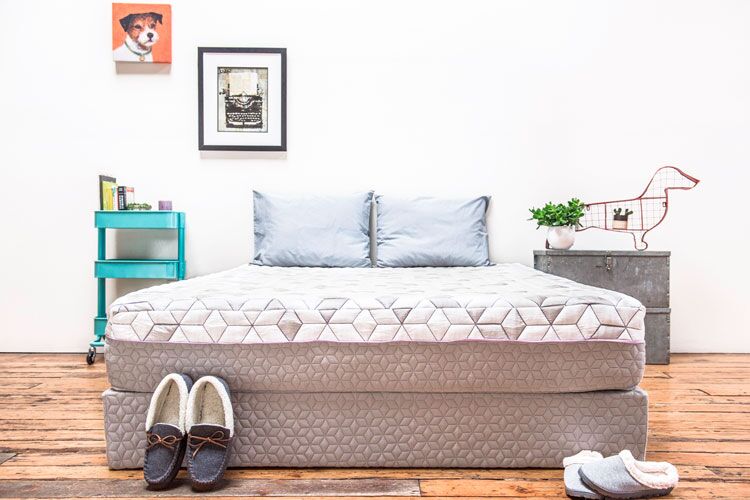 Why We Like It:
Cover comes off easily for washing
ThermoGel® for cooling
Egg-crate design allows airflow
Two firmness options
Relieves the hips and shoulders
The Layla Mattress is a flippable bed with two firmness options in one (Medium-Soft and Firm). It's a good option for people with sciatica because it offers cradling comfort and the support necessary for this condition. Just keep in mind that the firmer side of the bed is likely more suitable than the soft side for helping with sciatica pain.
You Might Want To Pick The Layla Mattress If:
You prefer foam over coils: While some prefer a traditional coil bed, others like a slower-responding mattress with a cradling hug. If you know you like foam more than coils, the Layla Mattress should give you what you want.
Cooling technology is important to you: Layla definitely went to lengths to ensure that their mattress would provide a cool sleeping experience. Their mattress utilizes a convoluted (egg crate-shaped) foam layer for airflow, proprietary ThermoGel® to regulate temperature, and copper for additional cooling.
You don't want a bouncy bed: Whether you choose the soft side or the firmer side of the Layla Mattress, you won't get a bouncy surface to sleep on. If you enjoy sinking into your bed, this mattress could be what you're looking for.
You have pets: Memory foam goes hand in hand with great motion isolation and that includes the Layla Mattress. If you have a pet that tends to jump into your bed at night and wake you up, this factor could help you stay asleep at night and wake up rested.
The cover of the Layla Mattress is moisture-wicking, fully removable, and followed by a copper-infused memory foam layer for contouring comfort. Under this is two inches of convoluted foam, followed by the mattress foundation and a 1-inch memory foam layer, which serves as the top layer for the firm side.
While the Medium-Soft side of the mattress is slightly below average in terms of firmness, the Firm side is slightly above average. Both sides provide enough sinkage to hug your body and provide alignment and have virtually no bounce.
If you're a light sleeper or you have pets, you'll appreciate the motion-absorbing surface of the Layla Mattress. The memory foam used in the bed's construction ensures that you won't feel your partner getting out of bed at night, no matter which side you choose.
This bed is free from harmful levels of hazardous chemicals and heavy metals and comes with a lifetime warranty. When you buy it, you'll get 120 nights to try it out.
Overall, this mattress has a very fair price for the value it provides. With the cooling technology offered, two firmness options, and the long warranty, it's a good deal for people with sciatica.
#5 Best Budget Mattress for Sciatica- The Nectar Mattress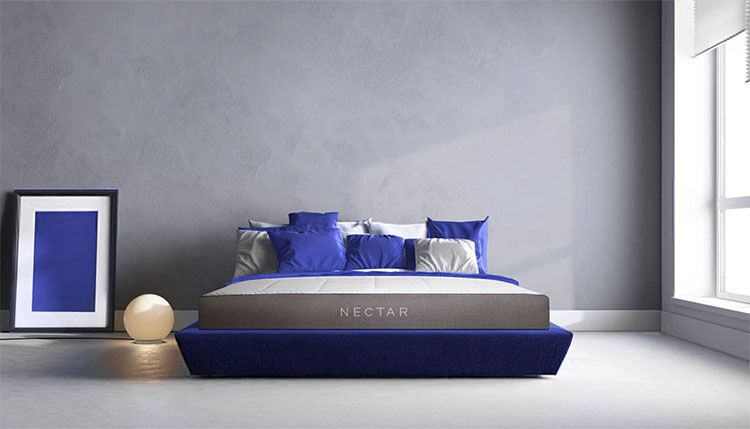 Why We Like It:
Cradling pressure relief
Breathable surface
Soft, plush cover
365-night sleep trial
Forever warranty
Having a medical condition can get expensive, so if you're looking to save some money on your bed, you might like the Nectar Mattress. We chose it as our top budget option for sciatica because it's a luxurious option with an affordable price, which can be rare!
You Might Want To Pick The Nectar Mattress If:
You like the idea of a breathable mattress: The Nectar Mattress is made from memory foam. If you enjoy the sinkage provided by this type of bed, but also sleep hot and want a breathable mattress, it could be a good fit for you. The bed uses gel foam, which won't trap heat as much as conventional memory foam does.
You sleep on your side: The side sleeping position makes it so that all of your body weight is supported by just your hips and shoulders. With a mattress that's too firm, this can get uncomfortable, so if you're a side sleeper, you'll probably find the medium firmness of the Nectar Mattress a suitable match to side sleeping.
You like slowly sinking into your bed: While coil mattresses have a distinct bounce to them, memory foam beds allow you to slowly sink into their surface. If you like a slow-responding feel in your mattress, the Nectar bed could be just what you've been looking for.
You want a long sleep trial period: The Nectar Mattress comes with a 365-night sleep trial, which is unusually long. If you like the idea of having a full year to try out your mattress, you'll appreciate this.
The cover on this bed is plush and soft with a thin layer of foam inside for comfort. The top layer of the Nectar Mattress is a contouring gel memory foam that won't trap body heat. Under that is a transition layer made of firmer foam, then a 5.5-inch layer of dense foam that serves as the mattress foundation.
This bed gently hugs your body when you lie on it, but also offers enough firm support to properly align your spine and potentially help sciatica symptoms.
The Nectar Mattress excels at absorbing motion disturbance, which makes it suitable for couples who share a bed. The bed is CertiPUR-US® certified and uses an eco-friendly material called Tencel in its cover.
Nectar sleep provides both an impressive Forever Warranty and a 365-night sleep trial period. Note that when you first unwrap the Nectar Mattress, there will be a noticeable off-gassing odor that will reportedly clear out in a couple days. This won't be a problem for most people, however.
If you like the idea of a memory foam mattress that will cradle your pressure points without making you feel stuck or trapped, the Nectar Mattress might be your best option.
What to Look for in a Mattress for Sciatica
Shopping for a mattress when you have sciatic nerve pain takes a little more planning than other people might require. Keeping your spine properly aligned is extremely important, as is maintaining a cool body temperature and minimizing motion disturbances. Let's look at some factors you should make sure your new mattress has when you have sciatica:
A Medium or Medium-Firm Structure: If you're using a mattress that's too soft, the heaviest parts of your body will sink in, misaligning your spine. On the other hand, a bed that's too firm probably won't provide enough pressure relief for your condition. Choose a medium or medium-firm mattress instead, which will provide both a soft surface and enough support for your spine.
An Affordable Price: Like we mentioned earlier, having any medical condition already makes life more expensive. For this reason, seeking out the best quality you can find (while still keeping it affordable) will be your best bet.
A Strong Structure and Supportive Edges: Sciatic nerve pain can make it difficult to get out of bed in the morning. When you choose a mattress that has a strong structure and supportive edges, this becomes much easier.
Cooling Technology: Sleeping hot is basically the enemy of a good night's rest. If you have sciatica, take the extra time to select a mattress with cooling features, so you're likelier to get quality sleep.
Considering the factors listed above, the Ultimate Dreams Supreme is the winner of the best mattress for sciatica on our list. Not only does it offer cradling pressure relief, but it comes with cooling technology and doesn't cost a fortune. This bed will also suit every sleeping position, so it works well for people who have partners.