Overall, Hampton & Rhodes provides a wide variety of mattresses at very low prices. If you want a memory foam bed but need a cool sleeping experience, you'll likely do well with the 8-inch Cool Gel Mattress. If you want a more responsive bed that still provides pressure relief, the Trinidad 10.5-inch Hybrid could be a good choice, whereas side sleepers will do well with the Hampton & Rhodes Aruba 14-inch Ultra Plush Pillow Top mattress.
Hampton & Rhodes offers a wide variety of mattress types and over 10 different models to choose from. They come in Twin, Twin XL, Full, Full XL, Queen, King, and California King sizes. Keep in mind that not all models will be available in every size. We'll be discussing three specific models by this brand below, but first, let's look at some pros and cons for the brand as a whole.
Hampton & Rhodes Pros and Cons
Pros
Strong edge support: Hampton & Rhodes mattresses provide strong edge support, according to user reviews. This makes it easier to get out of bed in the night and also makes the bed more comfortable for couples who like to spread out in their sleep without disturbing each other.
Lots of options: Hampton & Rhodes mattresses come in a wide variety of firmness levels. This means that no matter your body type or preferred sleep position, you should be able to find the right bed for your needs.
Cost: The price range for Hampton & Rhodes mattresses is a major benefit, as they cost significantly less than comparable products on the market. If budget-friendliness is a major factor for you, you'll probably appreciate what they have to offer.
Cons
Noise: Customers report that Hampton & Rhodes mattresses make a fair amount of noise compared to other hybrid and innerspring beds. This shouldn't be as much of a problem for beds that use foam in them, though, because this material tends to absorb noise and motion better than springs.
Warranty: The Hampton & Rhodes warranty isn't as good as some other warranties, with some warranties only lasting a year for select models. This will vary depending on where you buy the mattress, though, so always check this information before assuming.
Durability: Beds by this brand may not be as durable as competitor's products and might sag sooner. Using the bed with the proper support and adding a mattress topper can help with this, though.
Best Memory Foam Mattress by Hampton & Rhodes- The 8-inch Cool Gel Memory Foam Mattress
The memory foam model by Hampton & Rhodes is the 8-inch Cool Gel Memory Foam Mattress, which can potentially help you toss and turn less at night. Tossing and turning is often the result of uncomfortable pressure points, which memory foam can eliminate.
The 2-inch top layer of the mattress has the pressure-relieving feel of memory foam but doesn't sleep as hot, as it uses gel to disperse heat and keep you resting at a comfortable temperature. Under that is a 6-inch dense, supportive foam that acts as a base and gives the mattress its shape. You can expect to pay between $149.50 and $299.50, which is impressively affordable for memory foam.
What We Like:
Very affordable price for a memory foam bed
Cool gel layer should help you stay at a comfortable temperature
Firm enough to support all sleep positions comfortably
What We Don't Like:
8 inches may be too thin to feel comfortable for all sleepers
Budget mattress materials may not last as long as more expensive mattresses
What to Consider When Buying a Memory Foam Mattress
Each type of mattress comes with different considerations to keep in mind before you buy. Here are some things to think about with a memory foam mattress:
Motion absorption: Motion absorption refers to how well a mattress isolates a person's movements. A bed with bad motion isolation will transmit vibrations throughout the entire bed so that, each time your partner moves, you can feel it. A bed with good motion absorption, on the other hand, will isolate these movements and keep you resting peacefully, even if your partner is tossing and turning. Memory foam out-performs every other mattress material in this category, so if you're a light sleeper with a partner or pets, it's definitely worth checking out.
Sleep temperature: Memory foam retains heat more than other mattress materials, which can be a benefit or drawback depending on how you sleep. While heat retention used to be a major issue with almost all types of memory foam mattresses, most manufacturers have wised up and started using cooling technology in their beds to combat the problem. Cool gel infusions and breathable covers are a couple examples of this.
Moving around at night: Memory foam isn't a very responsive or bouncy material, which makes it great for absorbing motion but might make it harder to reposition your body on at night. This does, of course, depend on the firmness level of the bed you select. If you like to move around a lot in your sleep and want a bouncy bed, memory foam might not be the best option for you. If you like to select a position and stay there all night, however, it could be ideal.
Best Hybrid Mattress by Hampton & Rhodes- The Trinidad 10.5-inch Hybrid
Hampton & Rhodes has more innerspring models than other types of beds. For this section, we've chosen their Trinidad 10.5-inch Hybrid, which is medium-firm. Medium-firm mattresses are soft enough to be comfortable in every sleeping position but firm enough to provide support, no matter your body type.
The top layers of the Trinidad mattress are made of memory foam, for isolating motion and provide a plush feel. Under the foam layers are pocketed coils, to evenly spread the sleeper's weight and help ensure a healthy spinal position.
The layer of 768 individually wrapped coils helps promote airflow to keep you cool, so you don't wake up sweaty. This mattress is currently running from $279.50 to $399.50, depending on the size you choose.
What We Like:
Coils promote airflow for comfortable sleep temperature
Innerspring layer provides enough bounce to easily change positions in the night
Medium-firm feel is supportive enough for all body types and sleep positions
What We Don't Like
Hybrid beds tend to be heavy and hard to move without help
May not last as long as more expensive hybrid models from other brands
What to Consider When Buying a Hybrid Mattress
Hybrid mattresses combine the traditional feel of springs with soft comfort layers made with memory foam or latex (or sometimes both). Unlike all-foam beds, they won't have a very high level of sinkage because the support of the coils provides a firm core. Here are some other factors to keep in mind with hybrid mattresses:
Responsiveness: Beds made with coils tend to be more responsive than foam beds. This can make it easier to change positions in the night, so if you're a combination sleeper who moves around a lot, a hybrid could be a good choice for you. Couples may also prefer hybrids because a bouncy surface is better for sex than a slow-responding bed.
Motion absorption: As mentioned earlier in the article, memory foam is the best at absorbing motion. Hybrid beds that use both coils and foam are decent at motion isolation because the foam will absorb vibrations from your partner or pet's movements. Just keep in mind that if motion isolation is your main concern, you can do better than a hybrid bed by selecting an all-foam design.
Sleep temperature: Sleep temperature is an important aspect of your health. Beds that use springs in their construction may sleep cooler than other materials because the coils keep air moving and flowing through the mattress. You also won't sink as far into the mattress (which can make you feel hotter) because of the firm support provided by the coils.
Weight: Hybrid beds are very heavy and hard to move, which is worth keeping in mind if you move a lot. If you plan to buy a mattress and stay in your current home for years, though, this doesn't need to be much of a concern for you.
The Best Pillow Top Mattress by Hampton & Rhodes The Aruba 14-inch Ultra Plush Pillow Top Mattress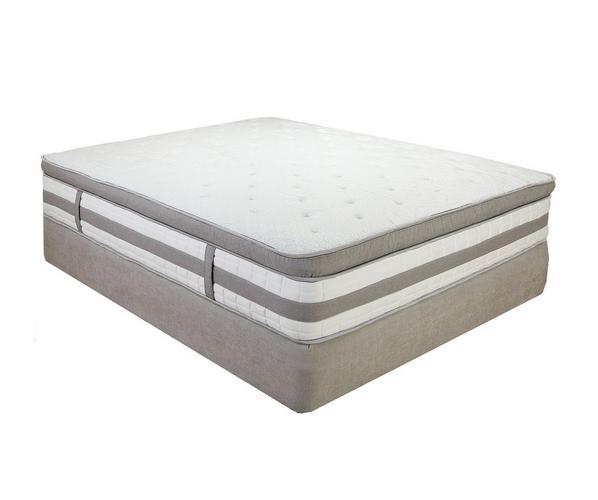 The Aruba 14-inch Plush Pillow Top Mattress provides pressure relief and can help you toss and turn less. It has a detailed knit cover, designed to be breathable and comfortable, followed by a heat-dispersing layer of gel foam, two more comfort foam layers for reduced pressure relief, and a layer of individually wrapped coils. The coil layer is 8 inches thick and uses 768 coils in total.
The springs in this mattress help promote airflow and provide a stable core for the bed. One potential downside for this mattress is that it only comes available in a King or California King size if you buy from Mattress Firm.
What We Like:
Pillow top provides plush and soft comfort
Breathable cover and gel foam help keep the sleeper cool
Budget-friendly price that won't break the bank
What We Don't Like:
Pillow top may degrade faster than higher-end mattress models
Only comes in King or California King sizes
What to Consider When Buying a Pillow Top Mattress
Pillow tops are usually found on innerspring beds. Also known as "Euro-top" mattresses, pillow top beds have an additional layer of padding sewn into the surface. This padding can be made from cotton, wool, latex, or foam. Here are some factors to keep in mind when you're shopping for a pillow top mattress:
Your preferred sleep position: Softer and thicker pillow top mattresses may not be suitable for people who sleep exclusively on their stomach. This is because the heaviest part of your body will sink too far into the mattress surface, making it harder to breathe correctly and potentially causing lower back pain over time. Pillow tops are great for side sleepers, on the other hand, since the hips and shoulders take on most of the pressure in this position and a soft surface helps ease it a bit. Back sleepers should feel comfortable on most pillow top beds, although they might want to select a firmer mattress to ensure proper spinal alignment.
Weight: If you're fairly heavy (over 230 pounds) you might find that a pillow top bed is too soft for your liking. Some manufacturers offer firmer pillow tops, though. Heavy sleepers should always ensure that their bed has a supportive core and keeps their body in a healthy alignment. Also regarding weight, there's the weight of a pillow top mattress itself. These beds tend to be about 20 percent heavier than the average mattress, due to the extra material used to make the pillow top.
Sleep temperature: Pillow top mattresses will usually sleep hotter than other mattresses, especially if the pillow top is made from memory foam. To fix this issue, you can either select a pillow top mattress made with breathable materials or choose a bed without a pillow top. Reading user reviews is a reliable way to figure out whether your bed will sleep hot or not.
Hampton & Rhodes Sleep Trial
Most modern mattress companies offer a sleep trial period with their bed to let you decide whether you want to keep it or not. Hampton & Rhodes provides 100 nights for you to test it out and you can return or exchange your mattress any time (whereas other companies make you use it for at least 30 days, first).
Note that if you do decide to return your Hampton & Rhodes mattress, you'll need to pay a $149 fee for processing. These terms may or may not apply depending on where you buy your mattress. Mattress Firm, the main Hampton & Rhodes mattress seller, has a 120-night sleep trial that requires you to use the bed for 30 nights before returning or exchanging it. Always read the fine print to find out for sure!
Hampton & Rhodes Shipping
Hampton & Rhodes mattresses come shipped to you in a box and can be ordered in any state if you order through Mattress Firm. Shipping costs will depend on where you live, although some models might come with free shipping.
In addition to standard delivery, you can select White Glove Delivery, which includes waste disposal, in-home assembly, and old mattress removal. You can also select Red Carpet Delivery, which comes with the same benefits with the installation and removal process, but takes no more than four hours.
A Hampton & Rhodes mattress could be a good choice for a budget shopper and it comes with the benefit of having many choices. While these beds are super affordable, note that they might not last quite as long as a more expensive mattress.