Our favorite memory foam bed is the Nectar mattress, which is the right firmness for a wide range of sleepers. Our second favorite is the Loom & Leaf mattress, which absorbs motion well and won't make you feel trapped in the foam.
Density refers to how solid and heavy the foam is and measures the mass of a cubic foot of foam (one 12 by 12-inch square).
Mattresses with denser foams will have more of a solid, heavy feel than beds that use lower-density foam, which weighs less. Even though mattress foams with higher density weigh more, they aren't always necessary firmer. ILD (impression load deflection) is how firmness is determined. The higher the ILD number of the foam, the firmer it is.
#1 Best Budget Memory Foam Mattress – The Zinus Green Tea Mattress
Last update on 2023-09-13 at 12:03 - More InfoProduct prices and availability are accurate as of the date/time indicated and are subject to change. Any price and availability information displayed on Amazon.com at the time of purchase will apply to the purchase of this product." / Affiliate links / Images from Amazon Product Advertising API
Why We Liked It:
Budget-friendly price
Good at isolating motion
Fresh scent
Eases pressure
Why We Didn't Like It:
Not as durable as other beds
Poor edge support
The Zinus Green Tea Mattress is a very affordable memory foam bed, made with a 3lb. density foam. This density of foam doesn't last as long as denser types, but it is typical for budget-friendly beds.
The 10-inch (medium-firm) model of the Zinus Green Tea mattress will be suitable for the widest range of people in terms of firmness. We'll focus on that model in this review.
Like other memory foam mattresses, the Zinus Green Tea Mattress creates comfortable sinkage and can potentially ease your back pain symptoms. The most unique feature of the Green Tea mattress is the infusion of castor oil and green tea extract in the foam, to keep it smelling fresh.
The mattress cover is made of a comfortable, stretchy fabric. Under that is a 2.5-inch layer of proprietary foam, for cradling pressure relief. Next is a transition layer, followed by a 5.5-inch base foam layer.
The Zinus Green Tea mattress is CertiPUR-US® certified, meaning its foams have been tested and found free from harmful levels of toxic chemicals. While there are some complaints about durability, there are thousands and thousands of reviews for this bed and they are mostly positive. The mattress comes with a 100-night sleep trial and a 10-year warranty.
#2 Best Memory Foam Mattress for Combination Sleepers- The Loom & Leaf Relaxed Firm Mattress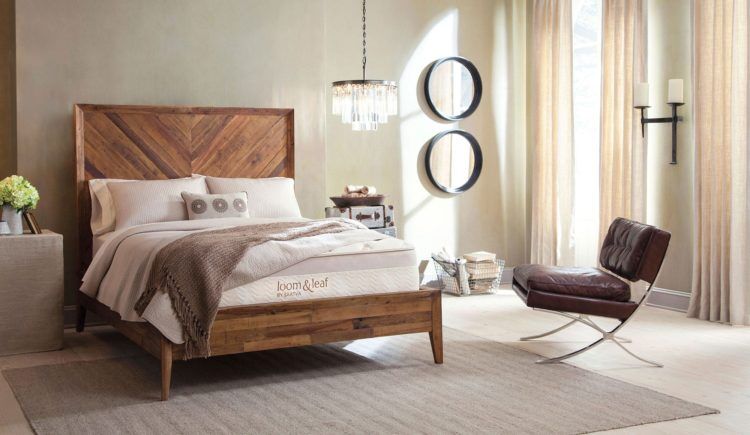 Why We Liked It:
Good at isolating motion
Sleeps cool
May help back pain
Won't make you feel stuck
Why We Didn't Like It:
Possible off-gassing odor
Weak edge support
The Loom & Leaf Relaxed Firm mattress has a firm, supportive feel with some cradling sinkage. We chose it as the best option for combination sleepers because it's rated as a 6 out of 10 in terms of firmness. This firmness level is soft enough to cushion the hips and shoulders in the side sleeping position.
It's also firm enough to keep the hips in alignment with the body, in the stomach or back sleep positions. Another feature that makes it suitable for combination sleepers is its quick-responding feel. This means that the mattress returns to its original shape quickly, making it easy to switch positions.
The Loom & Leaf Relaxed Firm bed has a quilted, organic cotton cover with some extra foam stitched into it. Next is a 2-inch layer of egg carton-shaped memory foam with 4 lb. density. This layer has a cooling gel panel added to the lumbar area for temperature control and customers report that the bed sleeps cool.
The third layer is a 2.5-inch layer of 5 lb. density foam, followed by a 2-inch transition layer and a 5.5-inch base layer for firm support.
The Loom & Leaf Relaxed Firm mattress comes with a 120-night sleep trial and a 15-year warranty. Customers report that the mattress sleeps cool and isolates motion very well. This bed is a good option for those who want a memory foam bed without a ton of sinkage.
#3 Best Memory Foam Mattress for Side Sleepers- The Nectar Mattress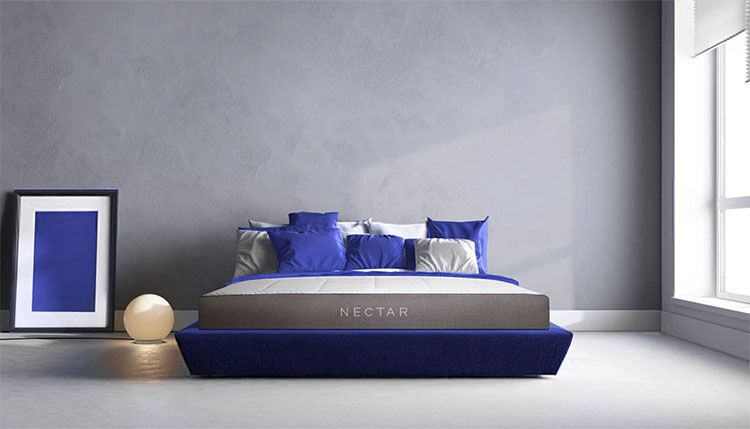 Why We Liked It:
Cradling pressure relief
Good motion isolation
Cooling technology
Easy to move around on
Why We Didn't Like It:
The Nectar mattress is a pressure-relieving, supportive memory foam bed. We chose it as our favorite memory foam pick for side sleepers because it cushions the hips and shoulders in this position. However, side sleepers who are below average weight might experience it as firmer and want to choose a softer bed.
The Nectar mattress cover uses cooling fibers to promote breathability and is followed by a 1-inch quilted foam layer of 4 lb. density. This gel-infused layer contours to your curves and is designed to prevent heat buildup. Next is a 3-inch layer of 3.5 lb. density foam that conforms to the body and provides support.
After this is a 1.75-inch transition layer of foam, then a 5.25-inch base. Sleepers will notice a pleasant sinking sensation when lying on the Nectar mattress, but should feel supported by the firm foam base.
Couples should appreciate this mattress as it absorbs motion well. Some users report that the Nectar mattress is helpful for lessening tension and back pain. The bed comes with an impressive Forever Warranty and a year-long trial period.
Why is Mattress Foam Density Important?
What does mattress foam density say about its feel and comfort level? There are a few different factors that will determine this. Let's look at some of them below.
Mattress Longevity
Foam density plays a role in how long you can expect your bed to last. Reviews and customer surveys show that dense foams last longer than lower-density foams. Dense mattress foam breaks down much slower than low-density foam. A high-density base is important in a mattress because it wears out slower and supports all of the layers above it with its durability.
Support
High-density foam allows for more contouring around the body, creating a supportive, hugging effect. Low-density foam isn't as supportive, although it can provide some support when there's a high-density foam base. Higher-density foam mattresses could be a better fit for people seeking to ease their back pain because it will retain its shape better and sag less. As mentioned earlier, denser foam isn't always firmer, so make sure you pay attention to the firmness the manufacturer labels the bed as, and user reviews about firmness.
Viscosity
Denser foam is usually more sensitive to temperature and takes on a viscous consistency as it comes into contact with body heat. This creates the signature sinking feel of memory foam. To some sleepers, too much sinkage can make them feel trapped. Low-density foam returns to its original shape faster, so you won't feel like you're in quicksand when you attempt to roll over.
Sleep Temperature
Memory foam has a bit of a reputation for being a warm mattress material. With higher-density foam materials, heat is trapped more easily. If you struggle with sleeping hot, it's best to find a memory foam bed with lower density. This will allow air to move more freely through the bed and disperse heat.
Odor
Off-gassing refers to the chemical odor that often comes from memory foam when it's newly unpackaged. Users report that foam beds with a higher foam density have more of an off-gassing smell, initially. Some people are more sensitive to this smell than others. If it bothers you, you can leave your mattress in a room to air out for a couple of days.
Defining Mattress Densities
Next, we'll go over the various qualities you can expect from mattresses with different foam densities. The type of mattress you'll experience as most comfortable is all about preference. So, make sure to think of the information we share in terms of your body type, sleep position, and health concerns.
Higher density foam doesn't always mean it's better for you, specifically. It simply means that the foam manufacturer used more material per cubic foot than in a lower-density foam. Lower density foam has less raw material and more air in it. There are pros and cons to each type of foam density.
Low Density
Low-density foam has a 3 lb. density or less and weighs the least out of each type of foam. Lower-density foam won't become as viscous as high-density foam in response to heat.
Foam with lower density also tends to allow more air to move through the bed, keeping it cooler.
Low-density foam beds may be a good choice for lightweight sleepers, as they likely won't be supportive enough for heavier people. They also come with the benefit of less off-gassing odor and are easier to move around on. If you're especially sensitive to chemical smells or shift sleep positions often, you may want to choose a bed with lower density foams.
Pros
Retains less heat
Less off-gassing
Easier to move around on
Tends to cost less
Wears out faster than denser foam
Cons
Doesn't last as long
May not support heavy sleepers
Medium Density
Medium-density foam is between 3 and 5 lbs. per cubic foot of foam. Medium-dense foam will feel more supportive than lower-density foam and should work well for most sleepers.
Mattresses with medium-dense foam will conform to your curves and relieve pressure. Many customers report success with easing back pain and tension with this type of bed.
Note that medium density means greater heat retention, as denser foam doesn't allow as much air to move through. People of average weight should find medium-dense foam beds supportive and comfortable. Thy should also work for heavier sleepers, as long as the mattress is firm enough overall to provide spinal alignment and prevent uneven sinkage.
Pros
Greater longevity than low density
Tends to be affordable
Suits a wide range of people
Lasts longer than low-density
Less expensive than high-density
Cons
More off-gassing potential
High Density
High-density foam has the most foam per cubic foot, at 5 lb. of density or more. Out of all mattress foam types, high-density foam weighs the most. You can expect a bed with high-density foam to be quite heavy and hard to move. This type of mattress is a good pick for people who want memory foam with supportive edges.
High-density foam is strong enough to support heavy sleepers. It won't wear out as quickly as lower-density foam when bearing a lot of weight. If you're sensitive to heat while sleeping, however, a high-density foam mattress may not be a good pick. This material retains heat more than medium or low-density foams because air can't move as easily through the denser consistency.
Pros
Supportive for overweight people
Most durable type of memory foam
Absorbs motion well
Cons
Expensive
High off-gassing potential
Foam Density and Body Weight
Your body weight is worth paying attention to when selecting the right foam density in your next mattress.
Lightweight sleepers: Lighter sleepers usually do well with foams of lower density because they won't sink too far into the bed. With less sinkage, there's lower potential for the body to rest unevenly.
Average weight sleepers: People of average weight have the advantage here and can sleep comfortably on any foam density. Most mattresses are designed to suit average sleepers, so density isn't as important if you're of average weight when it comes to comfort. Instead, think about density in terms of heat retention and price if you have an average body type.
Heavy sleepers: If you're carrying some extra weight, you're going to sink deeper into your mattress. Beds with higher-density foams will better support heavier sleepers. With dense foam layers, the bed will help evenly distribute your weight across the surface of the mattress.
Foam Density and Sleep Position
Sleep position is another important factor to keep in mind when considering mattress foam density. Let's look at each sleep position and how foam density relates to it:
Back sleepers: Back sleepers can choose foam density based on preference, as long as they're of average or light weight. Average or lightweight back sleepers should experience even weight distribution on all densities. If you're overweight, however, you'll want to choose a firmer bed with a higher density to ensure proper spinal alignment.
Stomach Sleepers: Stomach sleepers probably have the hardest time finding proper support. It's easy for your hips to sink in too far, leading to misalignment, when you sleep on your stomach. If you favor this position, go for a medium or high-density foam mattress (that will degrade slower and sag less) to ensure you stay properly supported.
Side sleepers: Side sleepers can choose any foam density because each type contours around the shoulders and hips, which is what this sleep position needs. Don't forget to also take your body weight into consideration when you decide on density, though.
Combination sleepers: If you tend to move around a lot at night, you may want to avoid high-density foam in your mattress. High-density foam is more viscous and can cause you to feel trapped in the bed because it contours so closely to your body. Lower-density foams, on the other hand, are more responsive and easier to move around on.
Final Words and Verdict
There is no objectively best type of foam density out there. The one that feels best for you will depend on your preferences, durability concerns, body type, and more.
Overall, we like the Nectar mattress the most because it uses high-quality, medium-density foam for pressure relief. Users report that the bed sleeps cool and it's hard to beat their Forever Warranty.
Some sleepers reported that the Nectar bed has weak edge support, so that may be worth keeping in mind if you have mobility problems.