The GhostBed has a slightly firmer feel than the Nectar mattress due to its upper latex layer, which offers a bit more pushback and bounce than an all foam bed.
It also has a thicker base layer of high density foam, adding to its firmer feel.The other major difference between the two is the sleep trial period and the warranty.
It's pretty hard to compete with Nectar's lifetime warranty and one year sleep trial period, but the GhostBed still offers a great warranty, at 20 years.
GhostBed also offers a decent enough time to decide if the bed is for you, with a 101-night sleep trial period.
Their regular price points are currently the same, at 795 USD for a queen sized bed, but Nectar's current sale makes them the better buy, for now.
Read on to discover more differences between these two beds, including their construction and feel.
Construction

The Nectar mattress is comprised of four layers, all serving their own purpose. The 11-inch-high bed starts with a top comfort layer of quilted memory foam with gel infusion.
This layer is meant to relieve pressure points and add a bit of sink to the overall feel of the bed, something that memory foam is known for.
This is further emphasized by the next layer down, a 1-inch layer, also made of gel infused memory foam. Under this is a 3-inch layer of memory foam. This is the transition layer, designed to prove a layer of stability and cushioning between the foundation base layer of the mattress and the top, thinner memory foam layers.
It also provides a good amount of rebound from body weight, as well as a bit of bounce and is made from what the company calls "hi core" memory foam, which basically means that it's meant to be adaptive and conform to the body, without compressing permanently or breaking down over time.
The base layer of the bed is a 6-inch-thick layer of two pound, high density foam. This serves as a stable base for the rest of the layers, absorbing motion and providing stability and durability to the overall mattress.
The cover is made of Tencel fabric, a material made of natural materials and designed to promote air circulation and wick away moisture.
The GhostBed is an 11-inch-high all foam mattress that starts off with a substantially thick base layer of support foam, at 7.5 inches thick.
This makes it a good choice for heavy or overweight sleepers who would like a memory foam bed with a thick foundation that won't collapse under their weight.
Above this base layer is a 2-inch layer of gel memory foam, which uses a proprietary, large cell formula and gel beads throughout, to make it cooler and circulate heat.
The third layer is a 1 ½ inch layer of aerated, synthetic rubber latex foam. Latex is known to be naturally responsive to the body, with a quick recovery time after body impressions are made. It also does not retain heat as much as other materials.
This is all wrapped in a plush cover made of viscose and polyester which is removable, replaceable and spot washable.
Firmness and Support
The Nectar mattress is designed as a medium firm mattress and sits at about a 6 to a 6.5 on a 10-point scale of firmness. Rated firmer than many other memory foam mattresses, the Nectar bed offers a bit more spinal alignment and resistance than other beds with thick, plush memory foam layers and is a great choice for those looking for a cushioning memory foam bed with a firm feel.
Since all upper layers of the Nectar bed are memory foam, it does have a nice level of cushioning for joints and provides a good amount of relief on hips and shoulders when laying on your side, back or stomach.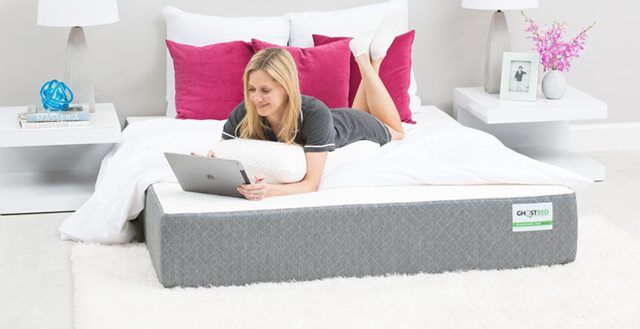 The GhostBed is also a medium firm mattress and rates about a 6.5 to a 7 on a 10 point scale of firmness, for what they say is the perfect level of comfort and support.
With a thick base layer as the foundation for the mattress, the GhostBed offers a strong base of support for the mattress and suits most customers of average weight and size. It is even a good choice for most heavy customers looking for a foam bed.
The latex top layer gives the mattress a nice, adaptive feel, which latex is known for, and a bit more of a pushback and bounce than a memory foam top layer, which normally lets you sink in a bit more.
So, if you're looking for an all foam bed that is on the firm end of the scale, the GhostBed could be a good choice for you.
Motion Transfer and Sinkage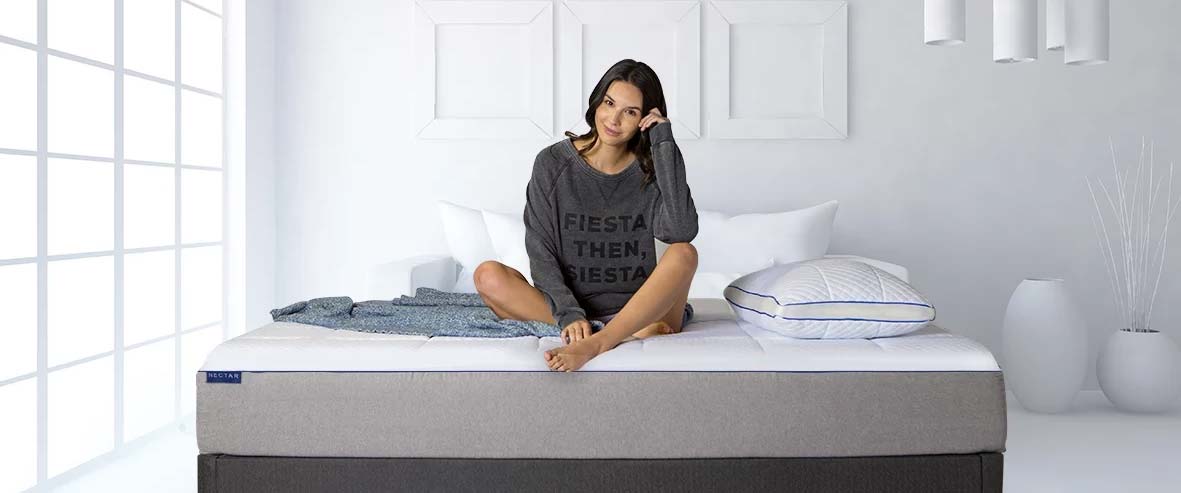 As with most all foam mattresses, there is little motion transfer with the Nectar mattress. This is because of the thick stable base layer and the multiple memory foam layers, which absorb motion when getting in and out of the bed or turning over in bed. This makes it great for people who share the bed.
In terms of sinkage, because the Nectar is a medium firm bed, its stable core means that most people of average size find that the Nectar bed has no issues with sagging in the middle when sleeping either solo or with a partner. It has enough memory foam to allow you to sink in just the right amount, while still providing a decent amount of resistance.
The company also mentions that they designed the Nectar mattress to have a consistent level of firmness from middle to edge and therefore very little edge sinkage. Reviews also seem to back this claim up.
In terms of long term sinkage, Nectar offers a great "forever" warranty, in which they guarantee that any mattress that shows permanent impressions larger than 1 ½ inches over the course of the bed's lifetime, will be replaced for free.
As is no surprise, the GhostBed is getting high praise for its lack of motion transfer. Because most memory foam mattresses are good at absorbing movement compared to an innerspring bed, the GhostBed is also a good choice for couples or restless sleepers.
Since it has quite a thick, high density foam base, at 7 ½ inches and a combination of gel memory foam and latex in its upper layers, the GhostBed has less sinkage than other all-foam beds and quick recovery from compressions, due to the latex layer.
Temperature Regulation

Designed with cooling features in mind, the Nectar is a great option for those who sleep hot but are still wanting to get all the features of a memory foam mattress.
The bed contains several cooling features, starting with its Tencel cover, a fabric that is known for being both breathable and wicking away sweat. The top layer of memory foam is quilted to promote air circulation and the top two layers of memory foam are gel infused and made with their own proprietary, semi-open, LushFoamTM for cooling and premium quality.
Even the base layer is designed to be breathable and moulded to draw fresh air in through special channels. So, if you an extra hot sleeper and don't mind paying a bit more for something that is designed specifically with hot sleepers in mind, check out the Nectar.
Apart from being good at displacing weight and recovering from body compression, latex is also very good at distributing body heat and the GhostBed's 1 ½ inches of latex foam does well to get rid of body heat and keep you cool. The 2-inch layer of gel memory foam below this is another cooling property, that works well to keep your body cooler than other types of memory foam.
Another point of interest is that Nature's Sleep, the company who makes GhostBed, has recently come out with the GhostBed Luxe, a mattress that claims to be the coolest bed in the world, with proprietary Japanese design and seven layers of cooling technology.
So, if you an extra hot sleeper and don't mind paying a bit more for something that is designed specifically with hot sleepers in mind, check out the GhostBed Luxe.
Sleep Position and Body Type
The Nectar bed is made to be good for all sleep positions and it does a good job of this, with most people reporting they are satisfied. This also makes it a good choice for couples who sleep in different positions or people who move around a lot, changing position throughout the night.
It is medium firm without being hard and provides a good amount of spinal alignment for side sleepers, while cushioning pressure points.
Many reviews from customers who have back problems have given the Nectar mattress high points for its adaptive feel and many users have even reported that their back problems have disappeared after switching to the Nectar mattress.
As is with all beds rated medium firm, smaller, lightweight customers might find the Nectar bed a bit hard when sleeping on their side.
On the other hand, while both beds are meant to support overweight customers, heavier people might want to choose the GhostBed, between the two options, as it has a slightly thicker foundation and a latex upper layer, offering a bit more stability and pushback.
The GhostBed is also rating highly for people who sleep in all sleep positions, including back, stomach and sides. This makes it a good choice for people who move around a lot in their sleep, adjusting positions. Because of this, it is also good for couples, who sleep in different positions.
When sleeping on your side, the mattress aligns the spine and cushions the hips and shoulders well. That being said, if you are someone who likes a lot of cushioning on the hips, shoulders and other joints, you might want to consider a bed with a thicker memory foam top layer, as the top latex layer in the GhostBed does offer a bit of resistance and less sink than an all memory foam bed.
The thick layer of high density foam as this mattresses base should provide a decent amount of support, durability and comfort for heavy customers and bigger, overweight customers are giving it good reviews, mentioning that they are surprised how well it supported their frame for a foam bed.
Sleep Trial and Warranty
It is very difficult to beat the Nectar's sleep trial and warranty period. When purchasing the Nectar mattress, you are guaranteed a 365-night sleep trial period, giving you a whole year to try it out to see if you like it. If you decide you don't like it when this year is up, you can still return it and get a hassle-free refund.
There is no other bed out there offering this. In terms of warranty, the Nectar also can't be beat here. They offer a "forever" warranty. In short, this means exactly what it sounds like: if at any point your Nectar mattress breaks down in any way from normal use over the course of ownership, they will replace it for free.
FOREVER. Not only that, but if the mattress gets any permanent impressions in it that are 1 ½ inches deep or more, they will also replace it.
FOREVER. This is pretty impressive. As mentioned above, the GhostBed does have a decent sleep trial period and warranty. Although it can't compete with the Nectar mattress, they do offer a 101 night, risk free sleep trial and a 20-year warranty, which is decent for any type of mattress.
The high density, thick foam base means that this is a durable choice for a mattress and the high-quality materials in the mattress mean that this is a bed that should last you a long time.
Conclusion
You Should Pick the Nectar Mattress if:
You want an unbeatable sleep trial period and warranty – If you are really not sure if you will like a foam bed long term, the Nectar mattress makes for a good choice as you have a full year to decide if you want to keep it and a warranty that lasts for as long as you decide to keep the bed.
You sleep hot – The Nectar bed has several cooling technologies built into each layer – from gel memory foam and a breathable base layer to its moisture-wicking top cover. If you are a sweaty sleeper, you might find the Nectar bed cooler than most memory foam beds that have more sink and more of that wrap around, hugging feel.
You want a firmer memory foam bed – The Nectar Sleep mattress is rated as medium firm, so it gives some of that memory foam cushioning without making you sink in too much. This should appeal to those who usually find memory foam beds too soft.
You Should Pick the GhostBed Mattress if:
You are a heavier customer – For an all foam mattress, the GhostBed is getting great reviews overall from heavier customers. Since it has such a thick, high density base, most bigger people find they don't sink in too much compared with other foam beds.
You sleep on your back or stomach – Many back and stomach sleepers have a difficult time finding a foam bed that provides enough support for back or stomach sleeping but the GhostBed is getting great feedback for its ability to provide decent spinal alignment in all positions.
You want a firmer memory foam mattress – Rated as a 6.5 to 7 on a 10-point scale of firmness, the GhostBed is one of the firmer memory foam beds out there and its latex layer offers a bit more pushback than beds with all memory foam, thicker upper layers.
So, between the Nectar and the GhostBed, it comes down to making a decision between if you want the slightly firmer bed with a latex upper layer, as in the GhostBed, or if you'd prefer all memory foam in those upper layers.
The warranty and sleep trial period is also something to consider, as is how hot a sleeper you are, with Nectar coming out on top in both of those categories.