Choosing the right size of mattress for your bedroom is one of the first decisions you'll need to make when you start shopping for a new bed and, with so many options available, it's easy to feel overwhelmed trying to find the right option for you.
Queen and King-size beds are two of the most popular bed sizes for a master bedroom, both providing plenty of room for couples sharing a bed and more than enough space for individual sleepers. However, each option has its pros and cons, so, in this article, we've highlighted the differences in each size.
Use this guide to find whether a Queen or a King-size bed is the best bed size for your needs.
Queen Bed
A Queen-size bed measures 80-inches long by 60-inches wide, making it both longer and wider than a Full-size mattress – or, the next size down. This size bed is often less expensive than the bigger King-size bed and provides plenty of room for couples who have a smaller bedroom.
Pros
Comfortable size for couples
Ideal for couples sharing with a pet
Suitable for narrower master bedrooms
Cons
Less width than a King-size bed for couples
Perhaps not ideal for a restless sleeper sharing the bed
Not suitable for very small bedrooms
Size
A Queen-size bed is an ideal choice for couples wanting a larger, comfortable bed for their master bedroom, but who don't have enough space to accommodate a King-size bed. Couples can fit comfortably into a Queen-size bed and should still have enough room, even if you have a pet that likes to share with you.
Considerably narrower than the King-size bed, a Queen-size mattress is perfect for smaller bedrooms, providing a good balance between comfort for couples, while not taking up too much room.
Comfort
If you are a single sleeper, a Queen-size will arguably be more than enough room for just one individual. However, if you have a large master bedroom that will make a smaller bed look out of place, a Queen-size is a great option that will give you plenty of extra space to spread out.
For most couples, a Queen-size bed will be comfortable, although you will have 16-inches less width than two Twin-size beds pushed together. If you are plus-size or both active sleepers, consider upgrading to a wider bed.
Additional Info
A Queen-size bed is ideal for rooms 10×10 feet or larger: anything less and you may find getting around the bed and sufficient room for storage difficult.
As a very popular bed size, finding bedding and accessories that will fit a Queen-size bed is easy and should not be too expensive.
Best Queen Mattress
We recommend the Nectar mattress as the top Queen-size bed because it offers a great level of firm support that can comfortably accommodate two sleepers or one that wants a bit more room. It sleeps cool and has a great 365-night sleep trial period, so you can make sure it works for you. You can read our full review here for more info about this great buy.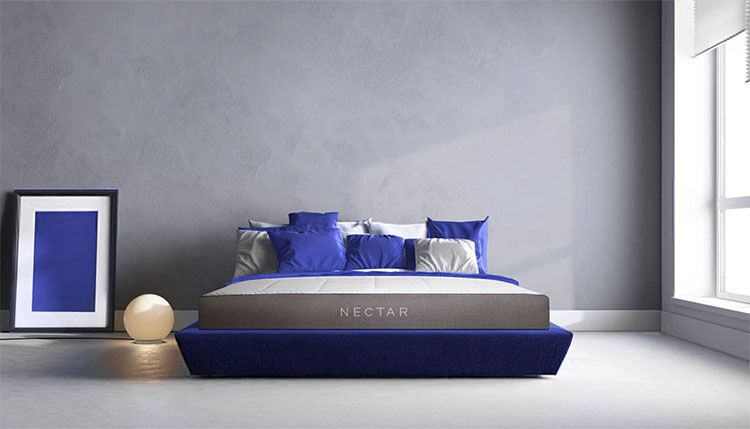 King Bed
A King-size mattress measures 80-inches long and 76-inches wide, giving it an added 16-inches in width compared to a Queen-size mattress. This size bed is very popular with couples and can commonly be found in larger master bedrooms.
Pros
Comfortable size for couples
Ideal for plus-size individuals
Ideal for couples sharing with pets or young children
Identical size as two Twin-size mattresses pushed together (ideal for King-size adjustable beds)
Cons
Not suitable for small bedrooms
Difficult to manoeuvre
80-inch length not always ideal for taller individuals
Size
A King-size bed is a full 16-inches wider than a Queen-size bed, providing a huge upgrade when it comes to sleeping space. As the equivalent of two Twin-size beds, a King-size bed will provide plenty of room for couples sharing and should provide enough room to significantly reduce motion transfer, if one of you is an active sleeper.
While a King-size bed doesn't provide any more legroom than a Queen-size bed, the additional width will make a huge difference. This size bed is also available from some brands as a split bed, ideal for anyone who has an adjustable bed base or a couple with wildly different preferences on mattress firmness and feel.
Comfort
For a single sleeper, a King-size bed is definitely overkill in terms of space. A Queen-size bed already provides more than enough room and the extra 16-inches of space will provide more room than you could use as an individual!
However, the extra width of a King-size bed can be extremely valuable to couples, especially if you are active sleepers or often share your bed with pets or young children. A King-size bed is also ideal if you are a restless or light sleeper and need your own space in order to be able to sleep comfortably.
Additional Info
A King-size bed is ideal for rooms 10×12 feet, although this is dependent on how much space and storage room you want to have in your bedroom. If you have a narrower room, you may find the King-size bed means you won't be comfortable getting around your bed.
King-size beds are another extremely popular bed size and so bedding is very easy to find at reasonable prices.
Best King Mattress
We recommend the DreamCloud mattress as our top King-size bed, as it offers the best of both an innerspring and foam bed. It has a firm level of support for two sleepers and its multiple layers make for little to no motion transfer and a luxury sleep experience. You can read all about the DreamCloud mattress in our full review, here.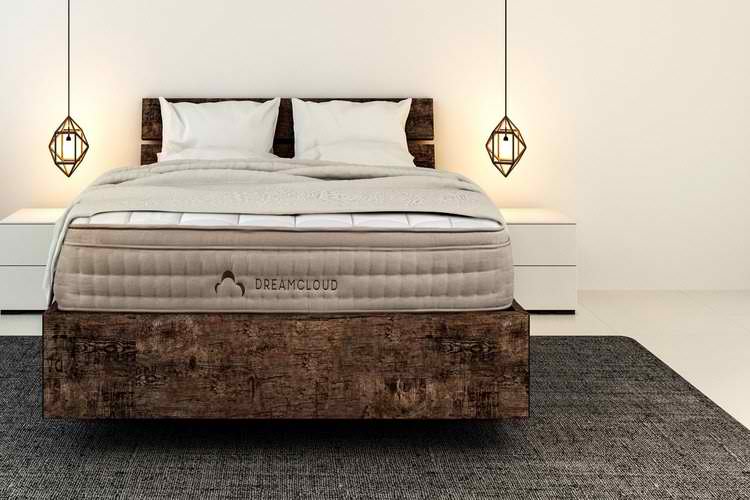 Cost
If you are comparing the exact same mattress in these two different sizes, the Queen-size bed is most likely going to be less expensive, purely because it is a smaller size. The cost of both sizes, however, is going to depend on a wide range of factors, such as its materials and foundation.
Verdict: King vs Queen – Which is Best?
The main factor that will determine whether a King or Queen bed is best for you is the additional width a King-size bed provides.
If you are in a couple and have the space in your bedroom, a King-size bed will provide the added space you need to have an undisturbed sleep with plenty of room to move around. However, a Queen-size bed provides the perfect amount of room for a couple with a smaller master bedroom, so it really depends on how much space you have to spare in your bedroom and whether you want more room in bed, or more room for storage and moving around in the room.