When you start looking into buying a new frame for your bed, it's easy to quickly become overwhelmed at the sheer amount of choice on offer, not to mention all the different styles you can choose from once you've decided what type of bed you want.
Below, we've broken down the different types of beds you can get for your home, as well as some of the most popular styles to help you decide on the best bed to perfectly blend into the theme of your home.
Things To Consider When Buying a New Bed:
Room Size: The size of your room will affect what size and what type of bed is best suited to your needs. A King-size poster bed, for example, may not be the best choice if you have a small bedroom to work with. Likewise, a smaller type of bed, such as a futon or daybed can look out of place in a large bedroom.
Sleeper: Who are you buying the bed for? A child and an adult will have different needs and you may have different priorities if you are buying a bed for overnight guests, as opposed to a bed for nightly use.
Storage Requirements: Is having under-bed storage important to you? Not all types of beds have enough clearance to place storage bins under the bed, so this is something to consider when looking at the different types of beds listed below.
Room Decor: Finally, you need a bed that will fit in with your bedroom's current decor, especially if you are not planning on redecorating the entire room. Consider your current interior design theme if you are looking at buying a bed with a statement headboard or intricate design.
Types of Beds:
1. Platform
A platform bed is a simple bed frame that you can place your mattress directly on top of, negating the need for a box spring. Platform beds typically come as either a solid, flat surface, made from laminate, metal, or solid wood, or have slats running across the middle of the frame to provide a slightly more flexible surface and increased airflow.
2. Box Spring
A box spring bed is typically higher off the ground than a platform bed and is used to provide even support across your mattress. They help to prevent your mattress from sagging and absorb more of your body weight, which can extend the life of your mattress. Traditionally, innerspring mattresses are made to be paired with a box spring for added comfort and support.
3. Folding
A folding bed – also known as a rollaway bed or a cot – is typically used for occasional use for overnight guests. These beds fold in half and often have wheels on the frame for easy portability, allowing you to store them under your permanent bed or in a cupboard until you need them. Folding beds typically have slightly thinner mattresses to make them easier to store and are ideal for small spaces, as well as overnight guests.
4. Panel
Panel beds are similar in style to platform beds, but have side rails that are designed for use with a box spring and mattress. This type of bed typically features tall, flat panels for the headboard and footboard and will normally be made from wood.
5. Adjustable
An adjustable bed has multiple hinges in its frame, which can be adjusted to move the bed into different positions, to elevate the head, feet, or both. These beds are popular with people who have difficulty getting in and out of bed, but are great for anyone who wants the option to adjust their position while sleeping or while relaxing in bed.
6. Murphy
Ideal for rooms where space is at a premium, Murphy beds fold back into the wall when not in use. They are similar to a folding bed, but typically will fold vertically back into the wall or a cupboard, rather than folding in half. If you have a very small space to work with, a Murphy bed is fantastic for creating space when the bed is not needed.
7. Trundle
A trundle bed is a bed that is stored underneath a larger one, normally on a set of rollers so it can easily be rolled in and out from underneath the larger bed. Trundle beds are typically no larger than a Twin-size bed and are ideal for use as a guest bed for sleepovers for your child – as the trundle bed is typically smaller than an average sized bed, it may not be ideal for taller adults. As a trundle bed is simply stored underneath your bed, they take up very little room, so are ideal if you have a lack of storage space but want a guest bed.
8. Daybeds
Daybeds, unlike trundle beds, are not stored away when not in use. They are shaped similarly to a sofa, with a three sided-headboard that is typically lined with cushions to provide seating during the day. Daybeds are very popular in guest bedrooms because of their versatility and make an ideal spare bed for guests.
9. Poster
A poster bed is identified by its four vertical columns on each corner of the bed, sometimes supporting an upper panel that runs all the way around the bed and with curtains that can be pulled around the bed to enclose it. Poster beds can come in a range of styles (see the next few points), materials, and shapes.
10. Pencil Poster
A pencil poster bed has four posts that each come to a point at the end. These can have an upper panel and canopy, but they are not necessarily defined by this feature. This is probably the most common type of poster bed.
11. Low Poster
A low poster bed still has four posts on each corner of the bed, but these are much shorter than the traditional poster bed and do not have an upper panel and canopy attached.
12. Half Poster
A half poster bed has four posts on each corner, with the two posts at the head of the bed considerably taller than the two posts at the foot. This makes them ideal for smaller spaces, providing much more space to move around the bed than a traditional poster.
13. Traditional Canopy
A traditional canopy bed is very similar in looks to a poster bed, with four posts on each corner of the bed. Traditional canopy beds will typically be made with intricately carved wood, or metal rods and will have an elaborately draped canopy across the posts to create a ceiling over the bed.
14. Contemporary Canopy
A contemporary canopy is much like its traditional counterpart, but with fewer embellishments. This type of bed is often made from wood or metal, with very little detail on the foot and headboards and a simple fabric draped across the top to form a canopy.
15. Divan
A divan bed is composed of two parts: a divan base and a matching mattress. A divan base is constructed from a sturdy wooden frame, which is then covered by fabric and placed on wheels so it can be moved around easily. Some divan bases include additional features, such as drawers or a headboard. You can purchase a divan base on its own, or get a divan set with the complete bed in one package. This is a very popular type of bed and can often be found at reasonable prices.
16. Futon
A futon is a Japanese-style mattress that is essentially a bed and a sofa in one. The futon is a great solution for when you have limited space, as it can easily be folded to be used as a sofa when the bed is not needed.
17. Sofa
A sofa bed has a very similar premise to a futon, but to convert the sofa into a bed, you will normally need to remove the seat cushions and pull out the mattress from within the sofa. Due to this, sofa mattresses are usually much thinner than a standard mattress and may not be as comfortable for long-term use.
18. Bunk
A bunk bed consists of two Twin-size beds stacked one on top of the other, with a ladder used to climb up to the top bunk. This type of bed is most commonly used by children, especially to save space when siblings share a room.
19. Loft Bunk
A loft bunk is when only the upper bunk is a bed, with the underneath space used for a desk or to create additional room in the bedroom. This type of bed is popular for children's bedrooms when space is tight.
20. L-Shaped Bunk
An L-Shaped bunk is the same as a bunk bed, but the two beds form an L-shape above a futon or Full-Size bed underneath. These are another great option for a child's bedroom, where you have a small space to accommodate children sharing the room.
21. Twin-Over-Double Bunk
This type of bed is the same as a bunk bed, but the bottom is a Full-size bed, rather than a Twin. This means the bed can accommodate three sleepers: two on the bottom bed and one on the Twin-size bed above.
22. Ottoman Storage
An Ottoman bed lifts up at the base to reveal a large storage area directly underneath the mattress. This is a great type of bed for bedrooms with a lack of storage space or if your bedroom is too narrow to have drawers under the bed.
23. Sleigh
A sleigh bed has a curved foot and headboard, shaped to resemble a sled or sleigh. This type of bed came from the French and American empires of the early 19th century and is often made from heavy wood, steel, or iron, for a dramatic effect.
24. Air
An air bed is an inflatable mattress, often made out of PVC plastic or rubber. This type of bed can be blown up by a pump and easily deflated and folded into a compact square for easy storage. This is another convenient option for overnight guests, as well as for camping trips, where weight is at a premium.
25. Waterbeds
Waterbeds rose to peak popularity in the 70s and 80s, but they can still be found today. Waterbeds are primarily used because the bed conforms to the shape of your body, which is thought to provide a more supportive and comfortable surface that reduces tossing and turning while you sleep.
26. Hanging
A hanging bed can add a unique statement to your bedroom and is made by hanging rope or metal chains from your ceiling, suspending your bed in mid-air. Of course, this type of bed does mean that every time you move, the bed will move with you, so it may not be ideal for active sleepers!
27. Hammock
A hammock is typically made of rope, netting, or a thin fabric that is suspended between two points. Although perhaps not ideal for sleeping in every night, hammocks are often used for relaxing outdoors in the summer or camping.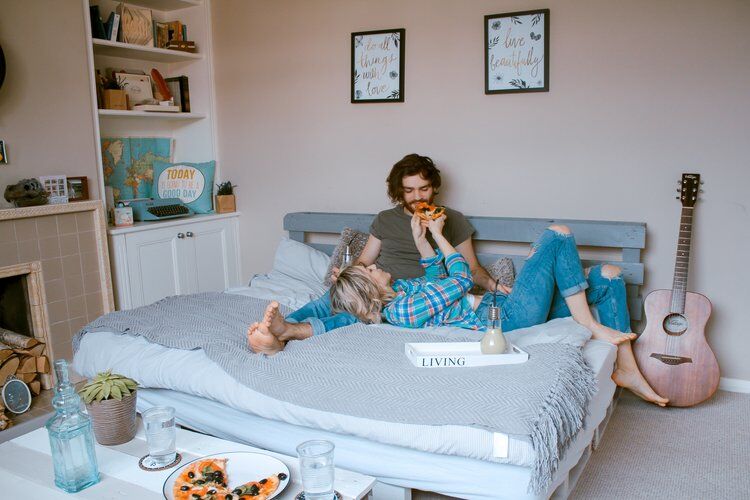 Bed Styles
28. Modern
Modern beds have an 'up to date' look that is typically simple with few embellishments and decoration and will fit into the modern home and interior design style.
29. Contemporary
The contemporary style can encompass a range of styles popular in the latter half of the 20th century and there is often a lot of crossover with the modern style. This style of bed features more rounded lines and basic shapes, often with neutral colours.
30. Traditional
A traditional bed includes designs from older eras and often has an elegant, inviting look. Types of beds including poster beds, canopies, and sleigh beds are all very reminiscent of the traditional style.
31. Rustic
The rustic bed style is suited towards anyone who loves the more old-fashioned, outdoors look. This style has a vintage feel and is popular in older homes looking for a cosy, homespun design.
32. Scandinavian
Scandinavian design is characterised by minimalist, simple functionality. This style of bed will have clean, simple lines and lack any embellishments in favour of a clean, basic look.
33. Mission
Mission-style furniture, originating in the late 19th century, is identified by its emphasis on straight angles and flat panels that accentuate the grains of wood within the furniture. The sturdy, stable look of Mission-style beds make them very versatile to match any decor you have in your bedroom.
34. Country
Country-style beds have a natural, comfortable look that is not unlike the rustic style. This type of bed will have a traditional look, usually made from wood with rich textures and will often be characterised by a frame with a strong presence, such as a tall headboard and sturdy posts.
35. Mid-Century
Mid-Century beds have a timeless quality with clean lines and gentle curves, offering a traditional style of furniture that will look at home with most interior design looks.
36. Industrial
While not for everyone, the industrial style is characterised by wrought iron framework, rustic touches, and weathered wood to create a factory-inspired piece of furniture that will add a real statement to any bedroom.
Bed Frame Material
37. Metal
Some metal bed frames are used more for functionality than aesthetics, but will provide a sturdy, durable bed frame that is built to withstand the test of time. If you are looking for a bedframe purely to provide a supportive surface to your mattress rather than to contribute to the decor of your room, a metal frame is a good option.
That being said, you can find metal being used in more contemporary and modern styles of bed, adding a sleek, elegant look to any bedroom.
38. Wood
Wood is a very popular choice of material for bed frames both in modern and more traditional styles and can't be faulted for its versatility and the character it can add to any style of bed.
39. Distressed Wooden
This type of bed frame is made with wood that is deliberately distressed, creating a weathered, vintage look, perfect for nautical and rustic themes.
40. Wrought Iron
Wrought iron beds are commonly used for modern and industrial looks, adding a stylish, vintage touch to any bedroom. This sturdy, simple material is a fantastic way of adding a dramatic statement piece to the look of your room.
41. Woven
Woven furniture, also known as wicker, is created by weaving wooden material into a lightweight, but sturdy surface. This type of bed frame is at home in country and rustic styles.
42. Upholstered
Upholstered bed frames fit perfectly into the cosy, comfortable look a peaceful bedroom should create. This type of bed is excellent for adding a luxurious touch to your bedroom and often comes with attractive headboards in a range of textiles.
43. Lighted Headboards
As the name suggests, lighted headboards have lights built into the headboard to provide a convenient lighting solution when reading and relaxing before bed. This type of bed can come in a range of styles and designs, including built-in nightstands or bookshelves.
44. Bookcase
This kind of bed comes with a built-in bookcase instead of a traditional headboard, providing plenty of space for your books and other nightstand essentials. Bookcase beds can be a fantastic addition to smaller rooms where vertical storage space is essential.
Conclusion
As you can see, there is a huge variety in the types of bed you could get for your home, with styles to suit different room sizes, different people, different uses, and different decor.
While it may seem overwhelming, with so much choice, you're bound to find a type of bed with the style and materials to suit your vision perfectly.