Looking to invest in a new bed? Interested in airbed technology but unsure about which brand to select? Then this article may be helpful for you. The Sleep Number 360® p5 Smart Bed combines both air and foam to support the sleeper. It comes with an innovative air chamber design and has five zones, which can potentially ease back pain or tension.
Airbeds provide a unique sleeping experience that makes them stand out in the market. Instead of using latex layers or coils as the main support system, airbeds have air chambers that you can adjust for customized firmness. While old models used manual controls, newer options have remote controls or even use app technology.
The Sleep Number 360® p5 Smart Bed is known to last longer than similar competing mattresses because any problem can usually be repaired by replacing the necessary parts.
4 Reasons To Pick The Sleep Number 360® p5 Smart Bed:
Instant firmness adjustment: Unlike most foam mattresses, the Sleep Number p5 can be adjusted immediately to find the ideal firmness level for your unique needs. Custom firmness can help with relieving pressure and pain in the body and, with the p5, you can change it at any time, even in the middle of the night.
Customized comfort for both partners: The Sleep Number 360® p5 Smart Bed doesn't just let you adjust the firmness level of the mattress but allows you to customize it on each side of the bed. If you sleep with a partner who prefers a different firmness level than you, this can be very helpful.
Zoned support: Different parts of the body require different levels of support. The Sleep Number p5 has a special comfort layer with five zones to support the body and provide you with the comfort you need to recover from a long day.
Soft, breathable cover: The cover can make or break a mattress in terms of overall comfort level. The cover on the Sleep Number p5 is breathable, soft, and helps you sleep cooler.
Innovative smart technology: The Sleep Number p5 has smart technology that you can use with the SleepIQ app or a remote control (sold separately). These allow you to adjust the Sleep Number, adjust your FlexFit™ base and control features like foot warming and under-bed lighting. The 360 beds by Sleep Number use a processor to analyze your heart and breathing rate and then adjust accordingly to get you back to sleep on restless nights.
Firmness & Support
As mentioned before, you can adjust the firmness of this bed immediately and even have two firmness levels on each side of the mattress. While this customized support can be great, note that some customers found it difficult to find their perfect firmness level. If you decide to go with the Sleep Number 360® p5 Smart Bed, plan to spend some time testing out various comfort levels until you find the right fit.
Construction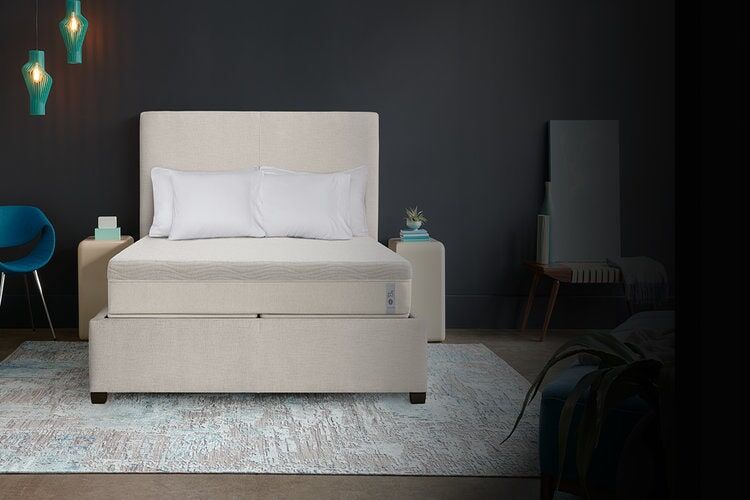 The Sleep Number 360® p5 Smart Bed comes in a 10-inch profile with a Polyester-blend cover. Under that is a 4-inch layer of combined Dynatex and Ergonomex foam to align the spine and create durability in the bed. Below this layer is the air chamber layer made of 24-gauge vulcanized rubber. In the Queen size p5 mattress, you can select either a single or dual chamber bed.
The FlexFit™ Adjustable Base by Sleep Number
Sleep Number offers three FlexFit™ base options that make the mattress move and have other useful features. The mattress is magnetically attached to the base, which can gently raise your partner's head to get them to stop snoring and has head positions for watching TV or reading in bed. Here are the differences between each option:
FlexFit™ 1: The FlexFit™ 1 adjustable base option allows you to raise your head and adjust the firmness and elevation of your bed. It's the simplest and most affordable of the three FlexFit™ base options.
FlexFit™ 2: The FlexFit™ 2 adjustable base option comes with firmness adjustment and Partner Snore™ Technology that allows you to raise your partner's head gently to stop them from snoring. There's also a timer that can return you to your preferred sleeping position and a zero gravity feature which makes your body feel weightless
FlexFit™ 3: This option comes with the zero gravity feature, Partner Snore™ technology, allows you to raise your head, and control your nightstand lamps and the under-bed light. It lets you adjust your bed elevation and firmness, has a timer feature that can return your body to your preferred sleep position, and can even give you a massage.
The FlexFit™ adjustable base will work with any size p5 mattress. While all size Sleep Number p5 mattresses can have split firmness levels on each side of the bed, only the King or California King sizes have the option for a FlexFit™ base that moves independently on each side (for reading, for example).
If you decide to go with a different brand for your base, make sure you check with the manufacturer to ensure compatibility before you buy. The company recommends that you don't use a traditional box spring since it won't provide the right kind of support.
Temperature Regulation & Motion Isolation
Like other foam beds, the Sleep Number p5 may have more heat retention in the summer. However, they use a gel infusion in the Ergonomex foam previously mentioned, which should help you stay manageably cool at night.
Sleeping with a partner can be a drag if your bed doesn't absorb motion well because you'll be constantly getting woken up each time they move in their sleep. The Sleep Number 360® p5 Smart Bed is decent at absorbing motion due to its foam layer, but won't do as well as an all-foam bed. About 5 percent of customers reported that this bed didn't isolate motion very well, so it shouldn't be much of an issue
Responsiveness
Since this bed uses foam, it doesn't have a very bouncy or quick responding feel to it. Instead, you can expect cradling sinkage from the top layer of the mattress. As far as firmness goes, that will depend on your personal preference and the level you select on the bed. Again, you should expect to need some time to find your perfect level.
Eco-Friendliness & Smell
Sleep Number uses CertiPUR-US® certified foams, meaning they're free from harmful levels of toxic chemicals. If sustainability is a major concern for you, you can also try to recycle your mattress when you're done with it.
The Sleep Number 360® p5 Smart Bed reportedly has a chemical-like smell when it's new, although it should be gone after a week or two. People who are especially sensitive to chemical smells may have an issue with this but the average sleeper shouldn't.
Price
How much can you expect to pay for the Sleep Number 360® p5 Smart Bed? Depending on the size you select, it will cost you between $1,849 (for a Twin) and $2,899 (for a California King), although you may be able to get discounts at certain times of the year.
Sleep Trial Period & Warranty
The Sleep Number 360® p5 Smart Bed comes with a 100-night sleep trial and a 100 percent money-back guarantee. If you notice that you aren't satisfied with your bed within the 100-night trial, you can return it for a refund. Keep in mind that you'll be responsible for shipping charges, however.
This product comes with a 25-year limited warranty but consumers have rated it below average because the non-prorated coverage only lasts for two years. Always make sure you read through the warranty conditions to see if they work for your needs before selecting a mattress.
Frequently Asked Questions for the Sleep Number 360® p5 Smart Bed
Q: How should I maintain the Sleep Number 360® p5 Smart Bed?
A: The Sleep Number p5 doesn't need to be flipped, although you should rotate and flip the foam components of the mattress to maintain quality and help them wear evenly. If you need to clean the bed, do so without saturating the mattress as this can lead to discoloration.
Q: How should I clean the cover of this mattress?
A: The Sleep Number p5 comes with a knit fabric cover that is easy to maintain and clean as needed. When you wash the cover, use a gentle soap and sparkling water, as this will be more effective for lifting stains. Don't use harsh chemicals or bleach on the cover if you want it to last as long as possible.
Q: How durable is the Sleep Number p5 Mattress?
A: This bed is a foam mattress with mechanical parts including a controller, air pump, and an air chamber. Since there are more parts that can potentially malfunction, you could consider this bed less durable than other types. However, when you consider that any malfunctioning parts can be easily replaced, you could be looking at a longer lifespan for the mattress than other types, overall.
Q: Is this mattress hard to move?
A: Compared to other mattresses, the Sleep Number p5 should be easy to lift and maneuver. Of course, the bigger the bed, the heavier it will be. If you need some help assembling the mattress, you can request it from Sleep Number for an additional cost.
Q: What type of base should I use for the Sleep Number p5 bed?
A: Sleep Number recommends that you use the mattress with a solid base, to get the right amount of support. This can mean a platform bed (without slats, as it requires more support than that) or a Sleep Number adjustable or modular base.
Final Verdict
Overall, the Sleep Number p5 Mattress could be a good choice for couples who require different firmness levels in their bed, but it's definitely not a cheap investment. You will also need to consider that finding your perfect firmness setting can be time-consuming. If customized firmness is a major plus for you, and you have the money to spend, the Sleep Number p5 could be a good choice.
Guide: What To Look For in an Airbed Mattress:
Airbeds are different than air mattresses, with enough support to be used as a main bed in bedrooms. Air mattresses are usually used for camping or a quick, portable sleeping solution. Below, we'll be discussing airbeds like the Sleep Number p5, not air mattresses. Here are some things to keep in mind when you're shopping for this type of bed:
Assembly: The assembly your airbed will require is going to depend on the particular mattress. While some will come shipped to you fully assembled and ready to sleep on, others will require some effort to get set up. Although most that require assembly can be put together without too much hassle, it may require a couple hours, so take that into account before you choose an airbed.
Noise: Airbeds might make a bit more noise than other types of mattresses. This includes both the air pump sound and also the mattress itself squeaking under your weight. Beds like the Sleep Number p5, which use foam or other absorbent materials, shouldn't have as much of an issue with this.
Adjustable support: Many airbeds come with adjustable support in addition to adjustable firmness levels. If the bed comes with more than six air chambers, you can use the zones to target different parts of the body. This means your lumbar area or neck can get more support, for example. For more information on whether the mattress you're interested in offers this, contact the manufacturer.