At Charles P. Rogers, you'll find a wide variety of quality beds with high user ratings. Their mattresses provide durable and comfortable support and combine the benefits of memory foam and latex with coils.
Each mattress from Charles P. Rogers has a different support level and the company uses gel layers, along with memory foam, latex, or both, to provide comfort. We will get into more detail about each mattress model later in the article, but first, here are some good reasons to choose a Charles P. Rogers mattress.
4 Reasons To Pick a Charles P. Rogers Mattress:
Sturdy base layer: Charles P. Rogers emphasizes quality in their mattress core (also known as the base layer). They use spring units for strong durability to provide the sleeper with proper back support. The coils are individually pocketed to prevent excess motion transfer and to increase flexibility in the springs for more contoured support.
Easy to move around on: Since Charles P. Rogers mattresses are hybrids, they use both coils and either latex or foam in their construction. This makes the beds easier to move around on than an all-foam bed, which creates a sinking feeling.
A cool sleeping experience: Coil mattresses often sleep cooler because of additional airflow, but Charles P. Rogers mattresses have other components that contribute to cool sleeping, as well, such as cooling gel foam and Talalay latex.
You're looking to buy a full bed: Again, Charles P. Rogers offers more than just mattresses, so if you're looking for a full bedroom revamp, they may be a good brand to go with. Customers can get special package deals on daybeds, beds, and headboards purchased at the same time.
Firmness & Support
Charles P. Rogers mattresses come in a wide variety, so it's hard to generalize about the firmness they provide. Their Powercore Nano2 and Powercore 9000 Luxury Plush models are medium-soft, while the Powercore Nano and St. Regis Pulse Latex are medium in feel. The Powercore Estate 7000 Extra Comfort is medium-firm, along with the Powercore Estate 5000 and St. Regis.
The Powercore Estate models are best for back or stomach sleepers since they have firm enough layers to support this position without causing too much pelvic sinkage. The St. Regis models are in the middle in terms of firmness and thus provide support and comfort that are suitable for the widest variety of sleeping positions and body types.
Note that Charles P. Rogers recommends using a Charles P. Rogers bed foundation for their mattresses. If you don't use the right support system for the bed, your warranty may be void, so make sure to check that out before you buy.
Construction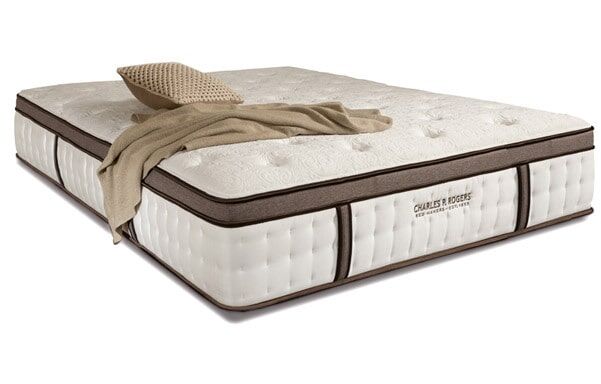 Click to Learn More
Charles P. Rogers mattresses come with soft, hypoallergenic covers, quality spring units, and natural padding materials. The coil units used are designed to provide long-term comfort and support to sleepers.
If you're a stomach or back sleeper and enjoy a firm mattress, you should probably go with the Powercore Estate option. Side sleepers or those who prefer a soft, plush mattress should consider the Powercore Nano, instead.
Each Charles P. Rogers bed comes with either one or a combination of a Talalay latex layer, a memory foam layer, and a layer of cool gel foam, along with a dense base layer and a "nano coil" system. The layers work together to create support, a comfortable temperature, and a durable design. Each Charles P. Rogers mattress has been individually tested to ensure quality.
Temperature Regulation & Motion Isolation
Hybrid mattresses tend to sleep fairly cool compared to all-foam beds since the coils promote airflow. With Charles P. Rogers mattresses, multiple layers of cool gel foam and latex keep the sleeper at a comfortable temperature throughout the night. Users report that heat retention isn't much of a problem at all with this line of mattresses.
When it comes to motion isolation, Charles P. Rogers mattresses are somewhere in the middle. As far as mattress materials go, memory foam is best at absorbing motion, spring mattresses are the worst, and hybrids are somewhere in the middle.
Since Charles P. Rogers beds use pocketed coils and foam or latex layers, these factors help with motion isolation, but you won't get the level of disturbance absorption that you'd get from a solid memory foam mattress.
Responsiveness
Responsiveness will vary across particular models in the Charles P. Rogers mattress line. Most hybrid beds are fairly bouncy and responsive, but the softer models in the brand's line will provide less bounce. Charles P. Rogers mattresses have strong and sturdy edges, which makes getting out of bed easier and is particularly helpful for people with arthritis or other pain issues.
Eco-Friendliness & Smell
The steel used in the springs in Charles P. Rogers mattresses are mostly made from post-industrial, recyclable material. The foam used contains plant-based poly oils, as opposed to synthetic materials, which are better for the environment.
Each Charles P. Rogers mattress is OEKO-TEX® and CertiPUR-US certified. These certifications show that the mattresses are free from harmful amounts of dangerous materials.
There is little to no reported off-gassing issues with the Charles P. Rogers mattresses. Since the manufacturing process doesn't involve harmful or harsh chemicals, there shouldn't be a strong smell when you set up your bed.
Price
Charles P. Rogers mattresses come in a variety of sizes and prices. They offer Twin, Twin XL, Full, Queen, King, and California King, though some models aren't available in every size.
The most affordable model is the St. Regis, which is about $927 for a Queen. The most expensive model is their Powercore Nano2, which costs about $2,400 for a Queen. Each mattress is manufactured in the United States.
Sleep Trial Period & Warranty
Charles P. Rogers offers a 30-day trial period with their mattresses, after which you can return the bed if you're dissatisfied. Warranty conditions and terms will vary depending on which mattress you select. If you want information on a specific model, call 800-582-6229.
Frequently Asked Questions
A hybrid mattress uses coils like an innerspring bed but also adds latex, memory foam, or both to provide additional contouring and support. The coils give the bed a firm, supportive feel and a bouncy surface, while the memory foam creates some sinkage and pressure relief.
Q: How much do hybrid beds cost compared with other mattress types?
A: Hybrid beds tend to cost less than memory foam mattresses, but more than all-spring mattresses. While there are budget memory foam mattresses that are cheaper than the average hybrid, the layer of coils in a hybrid bed will likely provide more support than one of these lower-end models.
Q: Are hybrid beds hard to move?
A: One of the drawbacks of choosing a hybrid bed is how heavy they are. Memory foam is heavy on its own, so add coils to the equation and you're looking at a bulky, cumbersome bed when it comes to moving. If you don't plan to move any time soon, though, this is an issue worth ignoring.
Q: Are hybrid beds good for couples?
A: There are a couple of factors to consider when you're looking for a mattress suitable for couples. The first is motion absorption, which prevents disturbances from reaching your partner and waking them up when you move around. Hybrids are decent at this, though not as good as all-foam beds. The second factor to consider is how bouncy the bed is since this can help or hinder amorous nighttime activates. Hybrid beds are typically quite bouncy, which is a plus for couples.
Q: Should I choose a soft or firm hybrid mattress?
A: Whether a soft or firm bed is best for you will depend on your unique preferences, sleeping position, and body type. People who are lighter than average will typically find softer beds more comfortable and experience them as firmer than a heavy person would. Medium-firm beds are suitable for just about every body type and sleeping position, whereas firm beds are best for overweight people or people who sleep strictly on their stomach or back.
Q: How long can I expect my hybrid mattress to last?
A: Hybrid beds have an average lifespan of six years, which is longer than the typical spring bed, but shorter than some of the top-quality memory foam models on the market. How long your bed will last is going to ultimately depend on the construction and quality of mattress you select, along with how heavy you are.
Q: How can I know when it's time to replace my mattress?
A: If you notice that your bed is sagging or that you can feel the coils through the fabric, it's definitely time to replace your mattress. Other signs include noisy springs that squeak a lot, worsening allergy symptoms, and waking up with a sore or stiff back. Studies show that getting a new bed can improve both back pain and sleep quality, so don't ignore these signs!
Guide: Differences Between Each Charles P. Rogers Mattress:
Charles P. Rogers offers seven different hybrid mattresses, under three separate collections. Below, we'll explore each of these, so you can make an informed purchase on your next bed.
The St. Regis Collection: This model is available in two different designs, each with a comfortable, cotton-blend cover. The standard model has seven layers, including dense poly-foam, memory foam, and cotton. The St. Regis Pulse Latex uses latex instead of memory foam, while both options have individually wrapped coils.
The Powercore Estate Collection: This collection has four models with a variety of firmness levels. Each of them has circular-knit covers and individually pocketed coils. The Estate 5000 Luxury Plush, Estate 7000 Extra Comfort, Estate 5000 Plus, and Estate 5000 Firm are all included in this collection.
The Powercore Nano Collection: This collection has just two models. The Powercore Nano has a circular knit cover, pocket coils, and both soft and firm latex layers. The Nano2 has two coil layers, two layers of latex, and a circular knit cover.
Each product in the Charles P. Rogers collection of mattresses provides temperature regulation, edge support, and comfort.
Final Verdict
Overall, Charles P. Rogers beds are good mattresses when it comes to durability, a proven track record, and overall comfort. Due to their dense base layer and quality springs, foam, and latex, these beds can be expected to do their job well.
If you suffer from sleeping too hot, want a bed with some bounce and want to buy from a trusted name, you should give some serious thought to buying a Charles P. Rogers mattress.