Amerisleep is a leading mattress provider based in the USA. The company is one of many leading the charge to provide high-quality mattresses at lower prices by removing the middleman and delivering directly to their customer's doors.
With a focus on creating long-lasting mattresses from eco-friendly materials, Amerisleep mattresses offer great value for money, considering the standard of their products.
4 Reasons To Pick The Amerisleep AS3 Mattress:
You are buying as a couple: Often, couples will have different sleep preferences, which can mean one person prefers a soft bed while the other prefers a firmer surface. With its Medium feel, the AS3 mattress provides the perfect balance for couples.
You want an all memory foam mattress: The AS3 is constructed from three layers of memory foam, each with a different feature to add to the mattress. If you like the feel of all-foam mattresses, this is a good option for you.
You tend to sleep hot: The Amerisleep AS3 mattress features a Celliant® cover and memory foam with an open-cell structure, both of which help to draw excess heat and moisture away from your body for a cool and comfortable night's sleep.
You want an eco-friendly memory foam mattress: Amerisleep makes their mattresses with plant-based materials, providing an eco-friendlier alternative to many other memory foam options on the market.
Firmness & Support
The Amerisleep AS3 has a Medium firmness level and is described as most suitable for side and combination sleepers, although, as Amerisleep's most popular mattress, we'd say that most people should find the feel of the AS3 both comfortable and supportive.
In terms of support, the AS3 is designed to blend both softness and support, providing a versatile sleep surface ideal for people who frequently change positions throughout the night or for couples who have different sleep preferences.
Amerisleep uses a blend of memory foam comfort layers to create a responsive mattress that is excellent at relieving pressure points as you sleep and contouring to your body.
Construction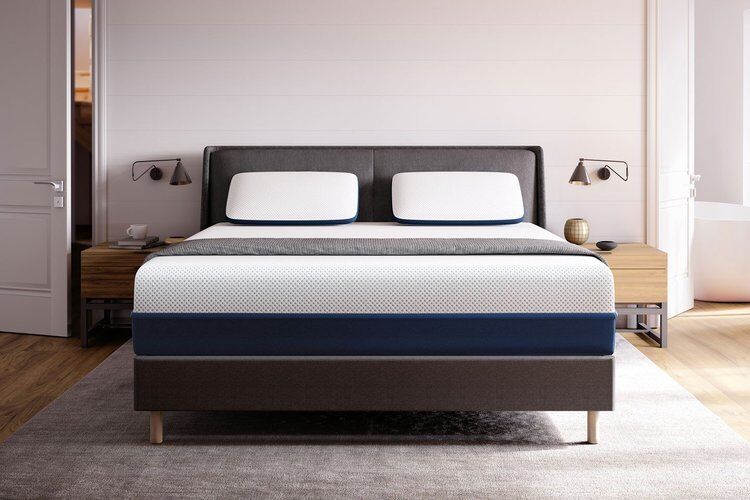 The Amerisleep AS3 is constructed from three layers of memory foam, which are then wrapped in a high-performance Celliant® cover. This advanced fabric is manufactured with 13 thermo-reactive minerals, which help to improve the performance of the mattress, creating a cool-to-the-touch surface that regulates your body temperature as you sleep.
The top memory foam layer of the mattress provides additional cooling. This layer of Bio-Pur foam is described as being up to five times more breathable than traditional foam, due to its open-cell structure which allows air to pass through the mattress easier. It also wicks excess heat away from your body as you sleep.
The second layer creates a 'floating' sensation when you lay on the mattress. Named the 'affinity transition layer', this memory foam is very soft and responsive, reacting to your body quickly to ensure your weight is supported and evenly distributed at all times.
This layer is also responsible for relieving pressure points, providing an almost weightless sensation when resting.
Finally, the base layer consists of the company's durable Bio-Core foam, designed to support the upper foam layers and ensure the mattress won't sag even after extended use.
These layers all combine to create a memory foam mattress that is a total of 12-inches in height, which is suitable for use with standard-size pocketed sheets.
Temperature Regulation & Mattress Motion Isolation
The AS3 has a number of features to prevent the memory foam from trapping heat and causing you to overheat during the night.
First, the mattress has Celliant® technology in its cover, which converts body heat into infrared energy. This infrared energy has numerous benefits, including better regulation of body temperature, enhanced blood circulation, and increase oxygenation to the cells – all resulting in a more restful night's sleep.
Second, the AS3 top foam layer is designed with an open-cell structure to create a breathable sleep surface, allowing air and excess heat to pass easily through the mattress.
In terms of motion isolation, memory foam mattresses always perform very well. In the AS3, the contouring layers of memory foam cradle your body for a weightless feeling, which should prevent motion from transferring between partners when sharing the bed.
Mattress Responsiveness
The AS3 is a very responsive mattress, which is partly what makes it ideal for combination sleepers and couples with different sleep preferences.
Amerisleep foam can bounce back once weight is removed from it in just four seconds – while traditional memory foam can take around 60 seconds to bounce back. The foam in this mattress, therefore, moves with you at night as you shift positions, providing total comfort that keeps your weight supported and evenly distributed at all times.
Eco-Friendliness & Smell
Amerisleep is an environmentally conscious company, manufacturing their foam in the USA. The company makes their beds using plant-based materials, which replaces some of the petroleum often used in the manufacturing of memory foam mattresses.
This method is actually the only method that exceeds the standards of the Clean Air Act, so you can rest assured that you're opting for an eco-friendly choice.
Due to this, there should not be any unpleasant chemical off-gassing smell when you first unpack your mattress – if there is, it will be the smell of new foam, rather than harmful chemicals.
Price
For a memory foam mattress made with quality, eco-friendly materials, the Amerisleep AS3 is competitively priced when compared to similar mattresses on the market.
While not exactly a budget-friendly option, this mattress offers great value for money when you consider the standard and quality of the materials used in its construction.
Sleep Trial Period & Warranty
Amerisleep provides a 100-night sleep trial with their mattresses. This guarantee requires you to test for bed for at least 30 days to get past the 'adjustment cycle' and, after this time, if you decide you don't like your mattress, you can return it within the first 100 days for a full refund.
Beyond the sleep trial, Amerisleep provides a 20-year limited warranty. In the first 10 years, your entire purchase is covered, should anything go wrong – after this, you're covered for a prorated amount if you experience a problem.
Frequently Asked Questions
What Foundation Can I Use With My AS3 Mattress?
Amiersleep recommends putting their memory foam mattresses on a solid, flat surface, in order to ensure the bed can perform to its maximum capabilities. They recommend placing a piece of plywood over your box spring to fully support the mattress.
Are There Others Options Besides The AS3 If I'm A Back Or Front Sleeper?
Yes – the AS3 is just one of six options Amerisleep offers. The AS1 and AS2 mattresses are firmer and more suited towards back and front sleepers, while the AS4 and AS5 are plusher and best suited for side and combination sleepers.
The AS3, therefore, provides the best middle-ground option that is ideal for the majority of sleepers and couples.
How Should I Care For My AS3 Mattress?
You don't need to turn or rotate this mattress to avoid indentations. However, your warranty will be voided if you spill something on it that breaks down the effectiveness of the memory foam, so Amerisleep does recommend purchasing a waterproof mattress protector.
How Will My AS3 Mattress Be Delivered?
Amerisleep mattresses are delivered compressed and boxed directly to your door for your total convenience. The mattress should expand and be ready for use within minutes of unpacking it.
Final Verdict
Overall, this is a fantastic mattress and good value for money. The AS3 has a Medium firmness level that is ideal for side and combination sleepers, as well as couples with different sleep preferences. As the most popular option from Amerisleep, we'd say that most people should find this mattress a good blend of supportive and comfortable.
The AS3 receives all-around excellent reviews for its cooling properties, pressure relief, and comfortable feel, with no real criticisms from customers.
While this isn't a budget memory foam mattress, it is worth the money you pay: providing a supportive memory foam mattress that promises to contour to your body and keep you cool throughout the night.